12 Most Contaminated Produce Products
With the weather less then ideal for gardening in most of the country so far in 2011, bountiful harvests are not as prevalent and are forcing consumers to purchase their produce. A recent study published by the Environmental Working Group highlights the top 12 most contaminated fruits and vegetables, as it pertains to having the highest level of pesticide residues as well as the top 15 fruits and vegetables that are the least contaminated.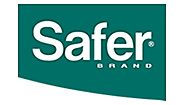 According to the EWG, consuming 5 servings of fruits and vegetables from the 12 most contaminated list would cause you to consume an average of 14 different pesticides a day!! (The Dirty Dozen™, EWG.org) Organic pesticide products such as Safer® Brand products break down into their natural state within 5-7 days, and best of all, leave no residual on your fruit and vegetables. Safer Brand products can also be used up until the day of harvest and most are OMRI Listed!!
According to the study, 97.2% of apples sampled tested positive for pesticides and 92% of apples contained 2 or more pesticide residues. Peaches have been treated with more pesticides then any other produce, registering combinations of up to 57 different chemicals. Apples were next with 56. (The Dirty Dozen™, EWG.org)
The 12 most contaminated, coined The Dirty Dozen™ are led by:
Apples
Celery
Strawberries
Peaches
Spinach
For the full list of the 12 most contaminated, click here to download EWG's Shopper's Guide to Pesticides in Produce
Adversely, the 15 least contaminated, coined The Clean 15™ are led by:
Onions
Sweet Corn
Pineapples
Avocado
Asparagus
For the full list of the 15 least contaminated, click here to download EWG's Shopper's Guide to Pesticides in Produce
Pass the asparagus please… or better yet… here are some tips on growing your OWN organic tomatoes, free from synthetic pesticides