Safer® Brand Donates Organic Supplies to Cancer Survivor Program
LITITZ, Pa., March 13, 2017 -- What is one of the best ways to help cancer patients? According to a program delivered by the Alabama Cooperative Extension System and the University of Alabama Birmingham, it's to get them gardening!
The program, called Harvest for Health, pairs Extension Master Gardener volunteers with cancer survivors to get them active and promote healthy eating at the same time. After an initial pilot study in 2011, the program really took off, and the idea was partially funded for a much larger 5-year study in late 2016.
The increased participation means an increased need for gardening supplies, and that's when Kerry Smith, Alabama State Master Gardener Program Coordinator, began researching products that allowed beneficial insects to thrive while targeting garden pests.
"While working with our reduced budget, I thought, 'I wonder if Safer® Brand would be able to help the project?'" Smith said.
Safer® Brand, a leading manufacturer of organic gardening supplies, was eager to help, explains Will Klinedinst, Category Associate for Safer® Brand.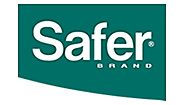 "When the Safer® Brand team heard about what Harvest for Health is doing for cancer survivors, we were immediately onboard," Klinedinst said. "Many of Safer® Brand's gardening products are geared toward people who want to avoid synthetic chemicals, so it was a great match."
After the two explored just what the program participants needed, the Safer® Brand team shipped out two pallets full of supplies. In the shipments were two key gardening products:
Safer® Brand Insect Killing Soap – A ready-to-use spray that controls aphids and other small insect pests and is compliant for use in organic gardening.
Safer® Brand Garden Dust – An OMRI Listed® treatment that kills more than 20 species of vegetable-destroying caterpillars and worms.
With the supplies from Safer® Brand in Alabama, the Harvest for Health budget is several steps closer to full funding. All totaled, more than 400 cancer survivors will participate in the program that restarts this spring.
The program, Smith explains, allows Master Gardeners to "mentor cancer survivors as the two develop a backyard vegetable garden" at each participant's home.
"The end goal is to positively affect their physical activity, mental health and increase consumption of fresh vegetables," she said, adding that the pilot study found that is just what happened. "Now we hope to prove this with our larger study group."
She also couldn't help but show pride in the Master Gardeners that she works with through this program and others.
"We have roughly 2,000 Master Gardeners in Alabama," she said. "These volunteers do everything -- from helping in the office to working in a demonstration garden to educational programs in libraries and now this program, too."
Those that joined as mentors in Harvest for Health are shining stars, Smith said.
"It takes a special person to be drawn to a volunteer activity where you are helping a person with medical difficulties," Smith added. "It's not a fit for everyone, but the ones who do choose this activity are priceless. They have a gift and we are blessed to be able to work with these people. This makes them feel rewarded, too. Some say they feel they get more out of this than the cancer survivors."
With the help from Safer® Brand and the dedicated Master Gardener volunteers, Smith said she's excited that Harvest for Health is inspiring cancer survivors to garden.
"We are trying to make pest management as low-impact as possible for participants," she said. "The soap and oil spray, the garden dust -- they were all perfect. It all came together nicely since Safer® Brand is so dedicated to organic gardening."
More about Safer® Brand
Safer® Brand is a gardening supplies manufacturer based in Lititz, Pennsylvania. It offers a wide variety of OMRI Listed® products to assist organic gardeners and hydroponic growers in pest and disease control and plant nutrition. Visit the Safer® Brand website at SaferBrand.com
More about Alabama Master Gardeners and the Alabama Cooperative Extension
The Alabama Master Gardener program is a statewide community involving 34 regional groups that support the Alabama Cooperative Extension System. Since 1981, this program has trained thousands of volunteer-minded people to be Master Gardeners. Visit the Alabama Cooperative Extension System at http://mg.aces.edu and the Alabama Master Gardeners Association at www.Alabamamg.org.
Harvest for Health is still in need of donations. If you want to support Harvest for Health, please contact Kerry Smith at smithkp@auburn.edu.
Media Contact: William Klinedinst, (717) 626-2125 x497, wklinedinst@woodstream.com
SOURCE Safer® Brand