Safer® Brand Feeding Schedules
Our goal is to provide you with products and knowledge to make growing fun, easy, and ultimately successful. The feeding charts and information on this page will guide you through proper nutrient applications for each critical stage of plant growth from seedling to vegetative to bloom and harvest. If you have any questions or concerns, reach out to us on social media or at 1-855-7-ORGANIC. Thank you for supporting Safer® Brand!
Safer® Brand Recommended Feeding Schedule
STAGE
SEEDLING
EARLY
VEG
VEG
EARLY
BLOOM
BLOOM
Awaken
5-10ml
1-2ml
Accelerate
15-20ml
20-25ml
Amplify
3-4ml
12-16ml
18-22ml
TruBone+
2-4ml
2-3ml
3-4ml
5-6ml
TruAmino+
3-4ml
6-7ml
TOTAL PPM
145-290
453-726
688-913
743-883
1015-1232
NPK Low
3-1-5
4-2-2
5-1-2
5-3-5
3-4-6
NPK High
3-1-5
4-3-2
5-1.5-2
5-3-5
3-4-6
If you are not following our recommended feeding schedule, the average dilution for each product is as follows:
| PRODUCT | DILUTION PER GALLON |
| --- | --- |
| Awaken | 3-4ml |
| Accelerate | 12-14ml |
| Amplify | 7-15ml |
| TruBone+ | 6-15ml |
| TruAmino+ | .2-1tsp |
General Feeding Information
For Best Results:
Use conductivity or PPM meter to monitor water quality and control nutrient strength.
Drain, discard and replace nutrients every week to prevent nutrient imbalance.
Maintain nutrient pH between 5.5-6.5. Adjustment may be necessary since water quality and pH vary both regionally and seasonally.
Reduce nutrient strength if plants show signs of stress.
U.S. to Metric Conversions:
| | |
| --- | --- |
| Teaspoon | 5 ml |
| Tablespoon | 15 ml |
| fl oz | 15 ml |
| Quart | 946 ml |
| U.S. Gallon | 3.785 L |
Plant Growth Stage Diagram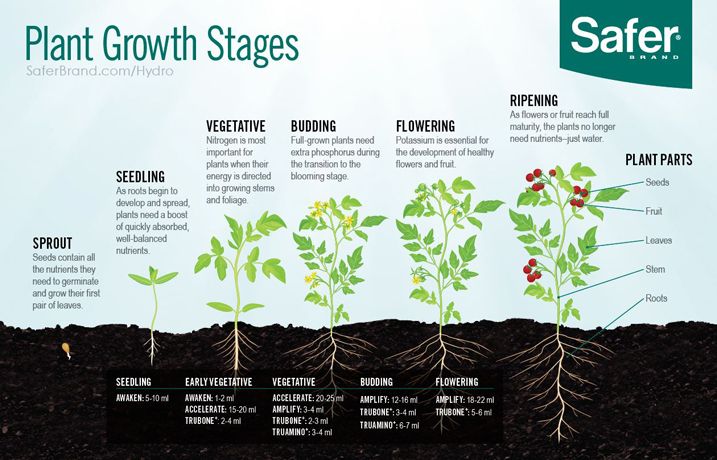 Download our Plant Stage Growth Chart »
Safer® Brand Comparison Chart