How to Remove Algae from a Wood Deck
Having a deck gives you a special place to spend your time. You can use it for family get-togethers, mealtimes, as a place for your grill or as the perfect locale for a drink while watching the sunset.
Your ability to enjoy your deck may be diminished if algae infiltrates the wood, making it more than a bit unsightly. If left for too long, the algae can actually cause damage to the deck, too. It and the moisture it feeds on can eat away at the wood, posing a risk to its structural integrity.
That issue makes it important to regularly clean wooden decks and walkways.
What is Algae?
Algae is a collection of microscopic plants that don't look a bit like the plants we're most familiar with. They don't have leaves, bark, stems or roots – they're just kind of a blob of chlorophyll that grows when it has the right amount of sunlight and moisture. Most algae are actually aquatic, which is why algae develops on wood decks that are frequently wet from dew. Alternatively, wood that gets limited sunlight (which means the wood stays moist after rain) is suitable for algae development.
Further, know that algae can grow on just about anything – you'll see it on vinyl siding, windows, rocks and even on the backs of turtles! Even stranger -- sloths often have thriving algae colonies in their fur!
Algae is incredibly durable – it can survive in a variety of environments and conditions and will bounce back to life if it is rehydrated.
While you may not like algae accumulating on your deck or picnic table, understand that algae are among the top producers of oxygen on a plant.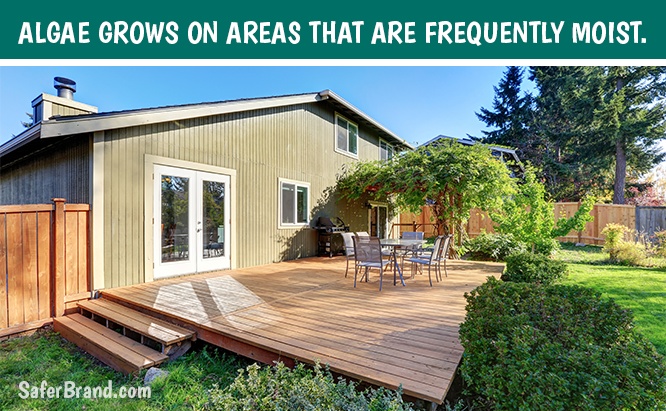 What Should I Use to Clean Algae off a Wood Deck?
There are several options to remove algae from wood. For sure, you'll need water and a scrub brush. Beyond that, you'll need to add some sort of liquid to get the process started.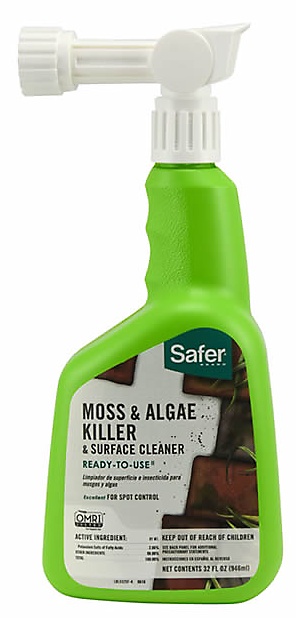 Moss & Algae Killer – This OMRI Listed® product from Safer® Brand uses Potassium Salts of Fatty Acids to break down the algae. Even better, it comes with a hose-end hookup to make it spray evenly on your deck without waste. Use it on decks, fences, roofs and, in the case of moss problems, on lawns. This solution is effective on mosses, algae, lichens, grime and liverworts.
Bleach water – Bleach water is often suggested to apply to decks in an effort to remove mold and algae. However, know that the bleach will also effect anything underneath the deck. Further, understand that the Occupational Safety and Health Administration no longer recommends using chlorine bleach for this sort of problem on wood surfaces.
Hydrogen peroxide (AKA oxygen bleach) – A lot of places recommend using hydrogen peroxide to clean your deck. The result is a foamy covering on your deck that loosens the grip of algae, dirt and grime on the surface of your wood. It won't necessarily kill the algae. Once it lifts it off the surface, though, it can be brushed or scrubbed away. (Oh, and by the way, that name-brand cleaning liquid they talk about in the infomercials? That's just hydrogen peroxide.)
Straight Water – You can also just spray your deck down with water! Just hose it down and scrub. Alternatively, you can use a pressure washer to blast the algae away. Neither of these are a perfect solution because you'll need a lot of water (and probably a lot of elbow grease) to be successful.
How Do I Clean a Wood Deck?
To get your wood deck clean of algae, you can follow these steps.
Clear – Remove all items from the deck, including furniture.
Sweep – Use a broom to push leaves, pine needles, clumps of dirt, grass and dust off the deck.
Moisten – Spray your deck to get it moist, but don't allow the water to puddle on the wood. You just need to moisten it.
Connect – Your Safer® Brand Moss & Algae Killer has a helpful hose connection that draws the algae-killing solution and mixes it with hose water.
Apply – Spray your deck with the solution and allow it to stand for 10 minutes.
Scrub – Use a stiff-bristled brush and scrub the entire area.
Rinse – Rinse the entire deck and use the water pressure to remove any suds or loosened grime.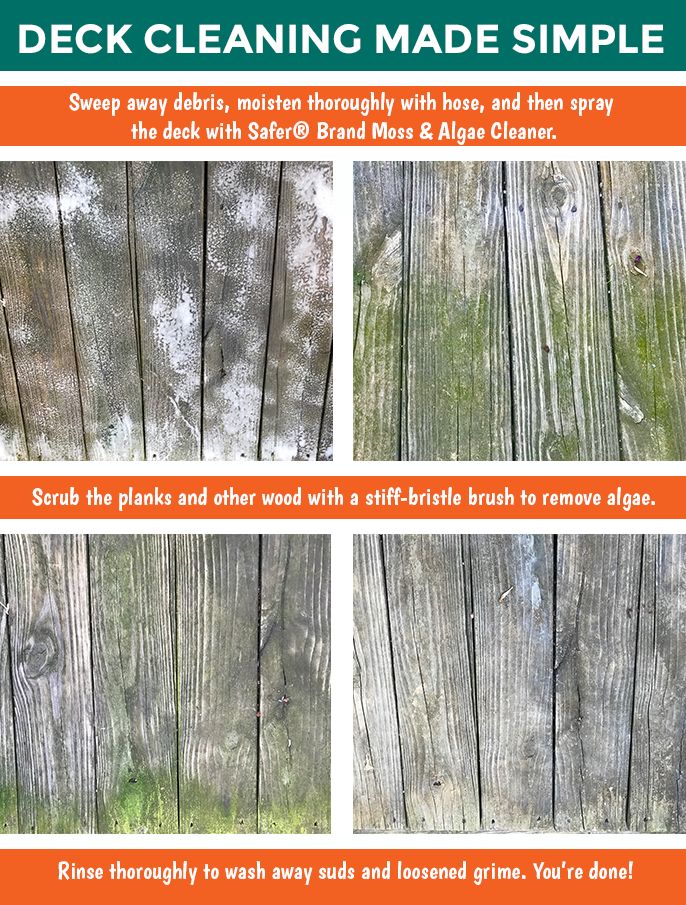 Why Safer® Brand Matters to You and Your Family
If you like the idea of taking control of your lawn and garden, turn to Safer® Brand, your source for OMRI Listed® lawn and garden supplies! Safer® Brand works hard to provide you with products that limit their long-term impact on the environment while delivering you with the resources you need.To get the full experience from us, join the Safer® Brand Community on Facebook for helpful tips, contests and other announcements. Subscribe to the Safer® Brand E-Newsletter for even more articles, too. Also, join the My Account rewards program to get money back on future orders.