Can I use Aerosols Around People and Pets
World War II was a landmark moment for insecticides. When U.S. troops were slogging through the Pacific Theatre in the campaign against Japan, they needed something to protect themselves from malaria-carrying mosquitoes.
Enter the aerosol spray bottle that soldiers dubbed the "bug bomb." This insecticide-filled canister allowed them to treat their tents, planes and other structures with a fine, mosquito-repelling mist. That success triggered a new wave of household products in the post-war years. Like the bug bomb, these products, including cleaners, spray paint and additional insecticides, were delivered via an aerosol spray can.
By the 1970s, scientists discovered a problem with aerosols of the time. The chemicals used as a spray-can propellant (chlorofluorocarbons) were damaging the atmosphere. By 1989, a global agreement was reached to remove those chemicals from sprays.
Since that time, however, confusion has reigned about whether aerosol sprays can still be used. People want to know: Can I still use aerosol sprays? How do aerosols effect the environment now? What chemicals are included in insecticide aerosol spray bottles? What are the effects of aerosols on children and pets?
How Safer® Brand Aerosols Are Different
Safer® Brand offers three insecticidal OMRI Listed® aerosols. Each uses a combination of D-Limonene, pyrethrins and insecticidal soap (potassium salts of fatty acids) to deliver kill-on-contact sprays that are listed as compliant for use in organic gardening.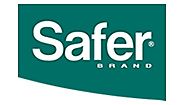 How do Safer® Brand aerosols kill bothersome bugs? These sprays use pyrethrins, insecticidal soap and D-Limonene to target insects in three ways.
Pyrethrin, a compound derived from chrysanthemum flowers, shuts down the nervous systems of insects.
Insecticidal soap, also known as potassium salts of fatty acids, dissolves the waxy layer of cuticle on an insect's exterior which results in death through dehydration.
And D-Limonene? It's a contact killer that also provides a lemony scent to the aerosols.
Further, each of these sprays was reviewed by the Organic Materials Review Institute, a third-party organization charged by the federal government to gauge products for adherence to U.S. organic standards. After successfully passing OMRI®'s requirements, products are then added to the list the USDA has deemed "compliant for use in organic gardening."
Safer® Brand's aerosol sprays are:
Flying Insect Killer – Use this non-staining spray to eliminate flies, mosquitoes and moths without a lingering chemical odor.
Ant & Roach Killer – Kill ants, roaches, bed bugs and other crawling insects with a quick blast of this spray made from plant extracts.
Wasp & Hornet Killer – Target wasps and hornets up to 15 feet away with this spray. Saturate wasp and hornet nests to destroy an entire colony.
Also worth noting is that each of these aerosols adhere to the standards established in the 1989 global agreement that banned the use of environmentally damaging chlorofluorocarbons.
Safety Information for Safer® Brand Aerosols
As with any insecticide, certain measures need to be taken during application. Using these aerosols near children and pets should be done with particular care. For complete usage instructions, consult individual bottles of Safer® Brand Wasp & Hornet Killer, Roach & Ant Killer and Flying Insect Killer.
Use Safer® Brand Aerosols Around Pets – Safer® Brand aerosols should not be used with a pet immediately present. Once the spray has dispersed or dried, pets can return to the area. If applying in an area where pet cages are present, remove the cage before application and put it back in place after the spray has dried. Aquariums should be covered before spraying takes place.
Use Safer® Brand Aerosols Around People & Children – As with pets, Safer® Brand aerosols should not be used with another person in the area. Instead, have any other people leave the area before application begins. Once the Safer® Brand insecticide has dried, they can return to the area. Prior to spraying, remove or cover exposed food, beverages, dishes, utensils and food processing equipment. If you can't remove them, wash these items before using.
Spray Insecticides in Your Home
Are you using Safer® Brand insecticides in your home or garden? Do you have any questions about how they are used and their effects? Let us know by reaching out to our dedicated Consumer Care Team on our toll-free helpline at 855-7-ORGANIC. You can also join the Safer® Brand Community on Facebook, where we explore organic gardening every day.
Also, be sure to subscribe to the Safer® Brand E-Newsletter for new articles on gardening and links to the articles you need from SaferBrand.com.