With their beauty and cultural significance, it's easy to see why many people choose to grow roses. Nevertheless, many gardeners have a hard time choosing which varieties to plant.
The good news is, with just some basic information, you can narrow down your choices and find the right rose for you in no time! Check out our infographic below to begin your search for the best rose to plant for your needs. Towards the bottom of this post, you'll find some of the top rosarians and gardeners give their favorite roses to plant.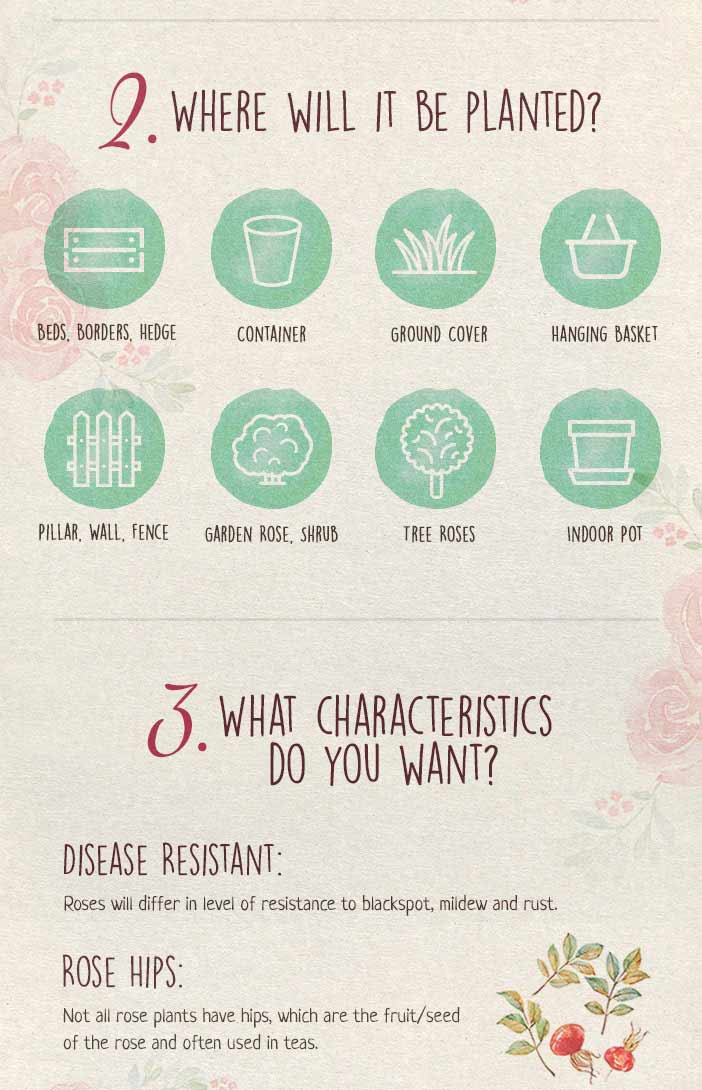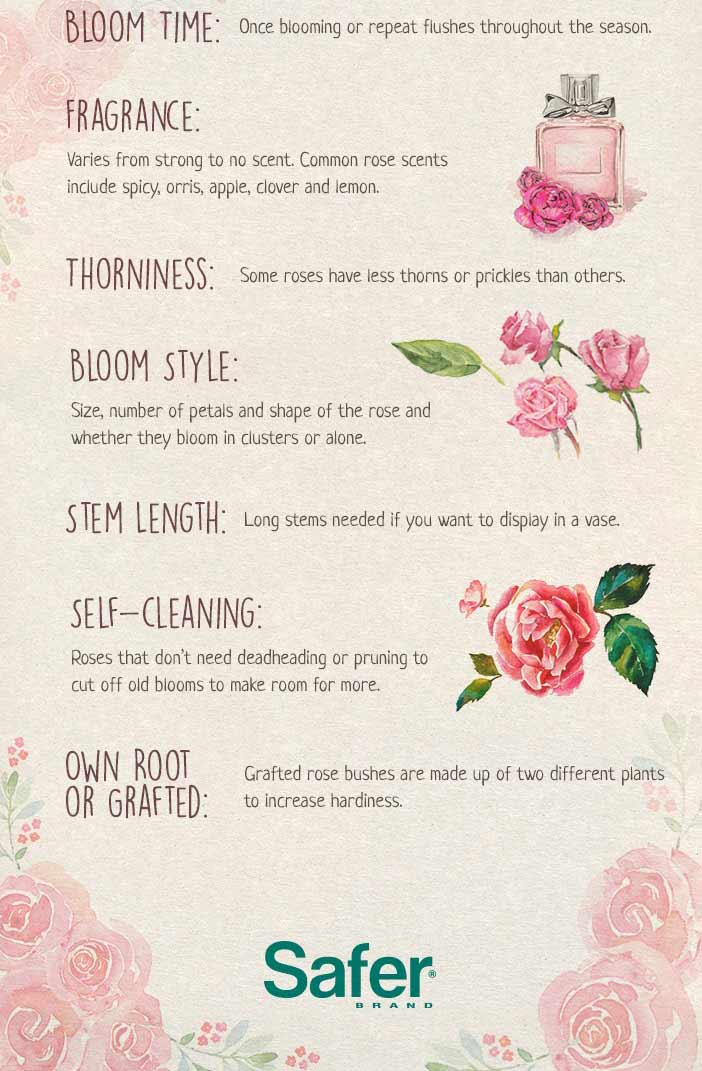 The Best Roses to Grow
How well plants do in your garden will always depend on a variety of factors. What kind of soil you have, the amount of sunshine, and where you live will all influence what rose you choose.
We asked the top rosarians and gardeners about their favorite roses to plant.
Belinda's Dream Rose, Earth-Kind®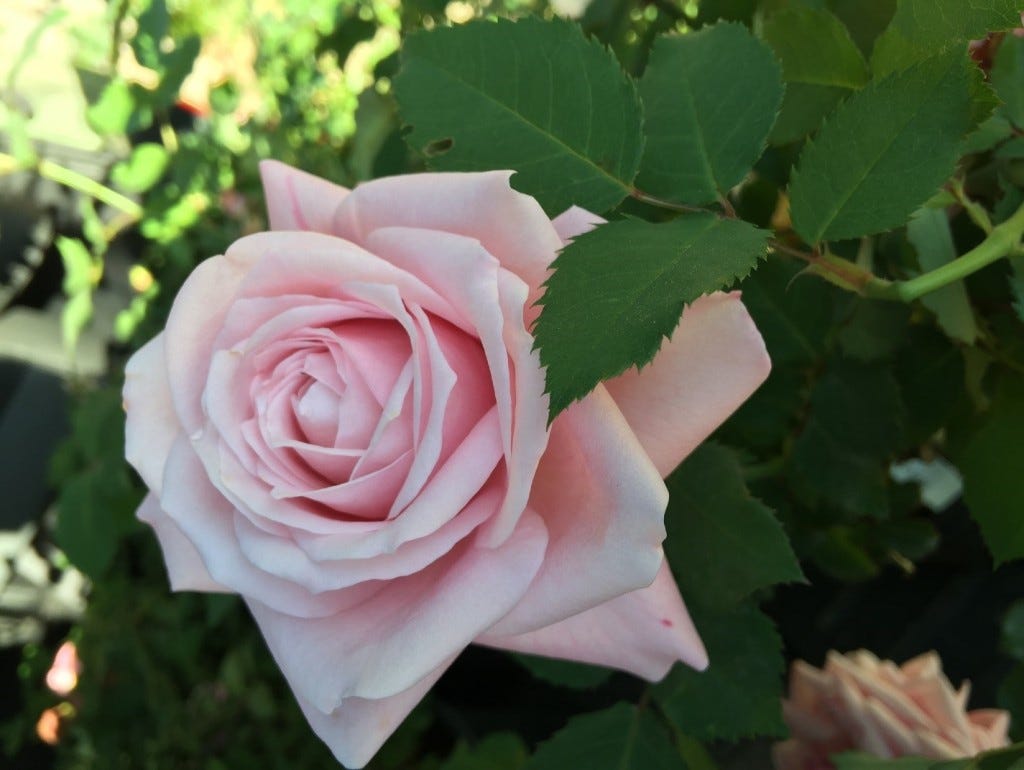 "When selecting a rose for your home it's vital that you know your zone. A rose that thrives in Louisiana (like Belinda's Dream rose, a Louisiana super plant) may not thrive in New York or any other state. The American Rose Society has a free service to help you chose your perfect rose. Call our office at 800-637-6534 and we will find a certified Consulting Rosarians near you who can tell you the best rose to grow in your own yard. Our Consulting Rosarians are trained to teach you everything you need to know about roses!" –Laura Seabaugh, Executive Director of the American Rose Society
"It's hard to answer the question, what's your favorite rose? I did select a rose that has never failed me. 'Belinda's Dream' is a beautiful pink shrub rose that has classic rose form without all the hassle of disease. Designated as "Earth Kind", this rose produces loads of large blooms on a disease resistant shrub. A must-have rose in my garden." –Chris VanCleave from The Redneck Rosarian, "America's Favorite Rose Gardener" and creator of Rose Chat Podcast.
Zones: 5-9
Use: 3'-5' tall, bushy shrub or large container
Characteristics: Fruity raspberry fragrance, 45-100 petals, double bloom form, multiple flushes, very disease resistant, long stem for cut flowers
Mortimer Sackler, English Musk Hybrid by David Austin®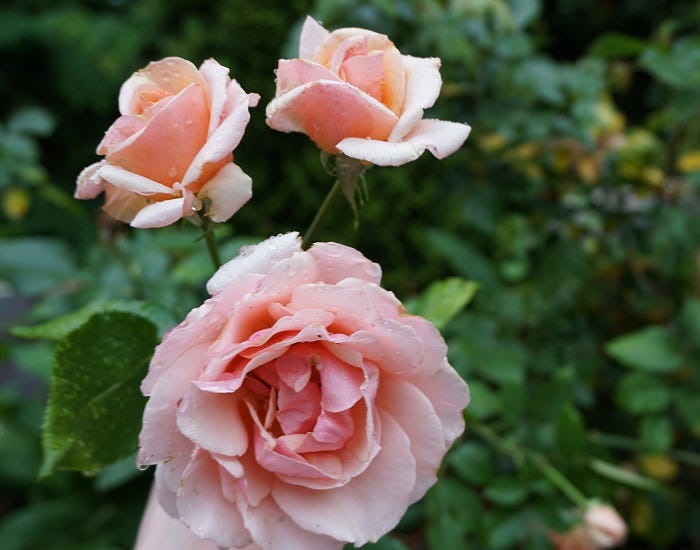 "I go with David Austin varieties all the way… something fragrant and romantic, good in the garden and in a vase… I'm always going to pick a rose for easy care, great fragrance and its value in the landscape. I'm looking for that extraordinary bloom on a "rose bush" that plays well with other plantings in the garden, needs no special seasonal pruning and looks good all year. I want it count-on-able when it comes to holding up its part of the overall landscape composition and I want it to sweep me off my feet in a vase… That's not asking too much is it? My current 'favorite' is Mortimer Sackler. I let it ramble for a naturalistic effect… Check out the description below– nearly thornless and tolerates some shade on top of being gorgeous and bulletproof – what's not to love?" –Margie Grace, Principal of Grace Design Associates and APLD International Landscape Designer of the Year.
Zones: 5a-10a
Use: Climbing rose (12 feet) for pillar, fence, landscape or shrub
Characteristics: Fruity old rose fragrance, multiple flushes, 41 petals, blooms in clusters, nearly thornless, long stem for cut flowers
Margie Grace also offered two additional favorites: "My most recent past 'favorite' is Grace (Great name, right?). Why do I love it — that color + the semi-cupped form + a nice size plant for the average garden. Favorite climber, you ask? Sombreuil Climbing Rose. Why do I love it? Romance, romance, romance… Bulletproof and vigorous – that's saying something on the (California) coast with a many-petaled bloom..and it's one of the very few quartered bloom roses that doesn't succumb to fungus in our warm coastal gardens!"
Quietness, Buck Rose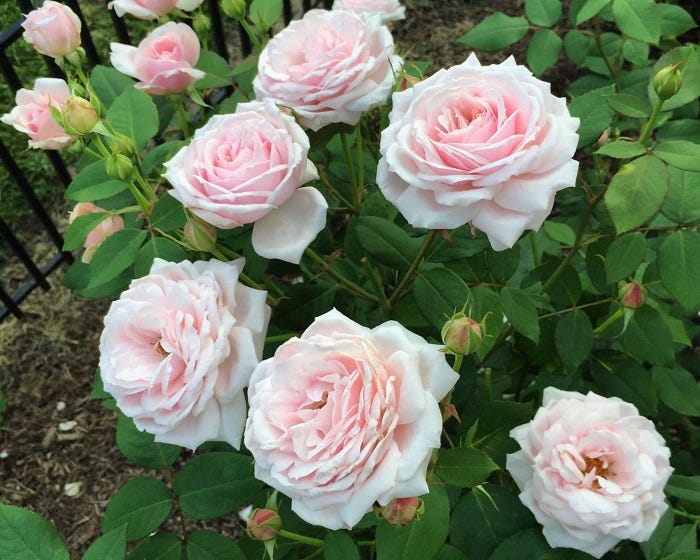 "When you love roses the way I love roses, choosing a favorite rose is not easy but I started growing one particular rose 3 years and ago and this rose has made that decision much easier.
"Quietness, a soft pink, fragrant, disease resistant and very beautiful Buck Rose is the one I choose. I can't imagine my garden without this rose. I often say that my garden is a garden of stories and Quietness is one of those stories.
"Quietness was hybridized in the 1950s by Griffin Buck, a professor at Iowa State University. Roses were not his profession, but they were surely his beloved hobby. He spent his hybridizing efforts trying for the most disease resistant and the most winter hardy roses. When he passed many of his roses were not yet named and not yet in commerce. His family farmed out these roses to nurseries for testing. This lovely pink rose made it's way to Laurens, SC into the loving hands of Pat Henry owner of Roses Unlimited. On the morning after 911, Pat low it spirit because of the world events, took a walk in her garden. It was a quiet morning. Even air traffic had stopped. She looked down at a beautiful bloom and said, "what is your name?" The tag revealed she was still a number. On that quiet morning Pat decided the rose would have the name Quietness … for the still of the day and the quietness in her heart and for Mr. Buck who was known to be a quiet man. The Buck family was delighted with the name. And the beautiful rose Quietness delights every visitor to my garden. I would recommend this rose very highly. It truly is a quiet pink. This rose and many other Buck roses are available at Chamblee Roses in Tyler Texas." Teresa Byington, ARS Consulting Rosarian, Master Gardener, co-host of the Rose Chat podcast, VP of Indianapolis Rose Society and blogger behind The Garden Diary.
Zones: 5-10
Use: Grows 4' to 5' tall and can be used for beds, borders, landscape, or shrub
Characteristics: Strong fragrance, repeat blooming, 40+ petals, double bloom shape, resistant to black spot and mildew, long stem for cut flowers
Reve d'Or, Tea-Noisette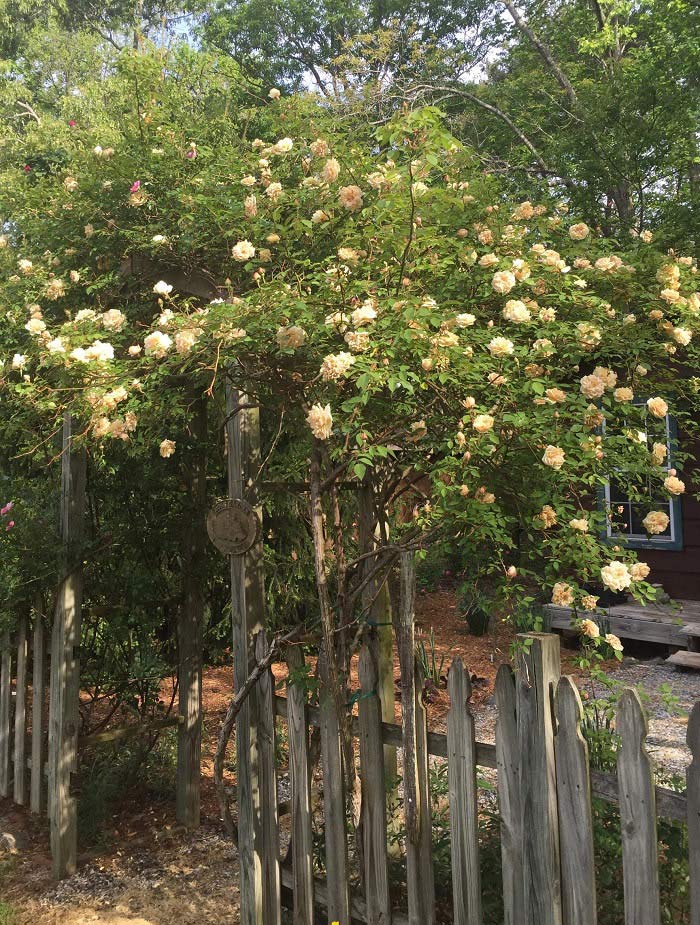 "I've grown and been involved with so many (roses) it's hard to answer but when I think back on roses I've never been without Reve d'Or comes to mind. Wonderful old Noisette climbing rose of soft apricot that is a blooming machine. Disease free and very graceful in it's growth habit." -Paul Zimmerman, Owner of Paul Zimmerman Roses LLC and author of Everyday Roses, How To Grow Knockout And Other Easy-Care Garden Roses.
Zones: 7-9
Use: 10'-18' climbing rose for fence or pillar
Characteristics: Moderate tea fragrance, blooms in flushes, 26-50 petals, globular bloom form, mostly disease resistant
Flower Carpet® Roses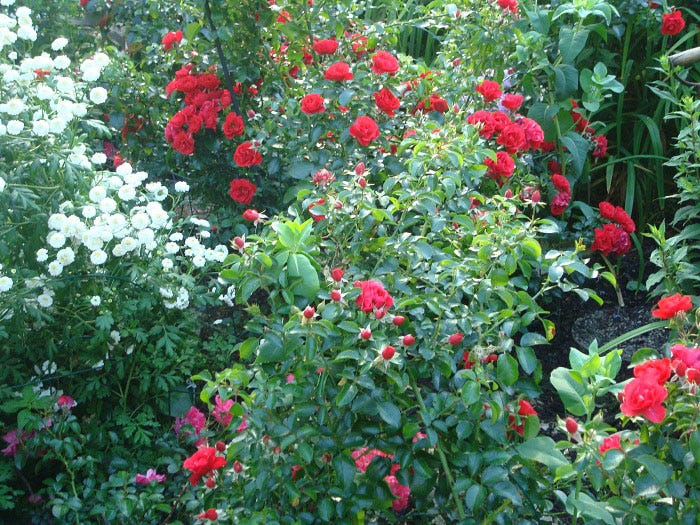 "Twenty years ago a test plant of a new rose arrived at my door step. It was not a tea rose, floribunda or grandiflora. I had my doubts that this 'new' rose would resist black spot in the rainy Pacific Northwest but I am happy to say the original plant is still growing in my garden and every summer I am still impressed with the disease resistance of these remarkable roses. I recommend Flower Carpet roses more than any other rose to my readers. They just don't disappoint." -Marianne Binetti, Professional writer, lecturer, Lowe's Northwest regional blogger and host of Dig In Seattle TV show.
Zones: 4-11
Use: 3' by 3' groundcover shrub for beds, mass planting, containers, or tree rose
Characteristics: Light sweet fragrance, easy care, self-cleaning, multiple flushes, 9-16 petals in small cluster blooms, very disease resistant
Carefree Beauty, Buck Rose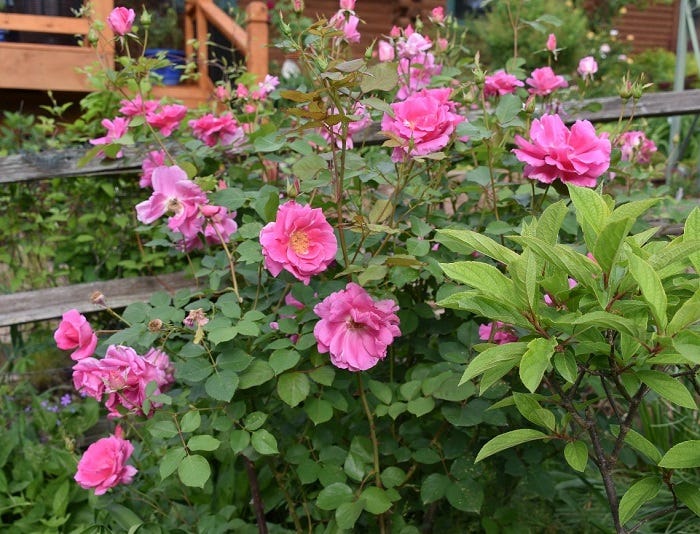 "I would say my favorite rose is a Griffith Buck rose called 'Carefree Beauty.' It was also sold in Texas as Katy Road Pink because it was 'found' on Katy Road in Texas. It was later identified as 'Carefree Beauty.'
"Here's why I love it so. 'Carefree Beauty' is truly carefree. I feed it once a year in spring, and it rewards me with monthly blooms. It's very cold hardy, but it also, with irrigation, handles Oklahoma heat. It's lightly fragrant too and completely disease resistant. I never see any blackspot or mildew. It's just the most wonderful pink too." -Dee Nash from Red Dirt Ramblings
Zones: 4-9
Use: 4' by 5' shrub for gardens, borders and beds
Characteristics: Strong sweet fragrant, large hips, 15-20 petals, semi-double cupped-to-flat bloom form, multiple flushes all season, very disease resistant
Munstead Wood, David Austin®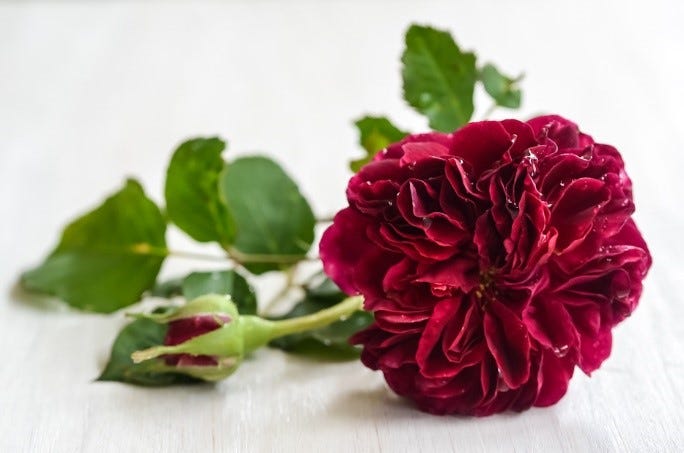 "'Munstead Wood', a David Austin rose, is one I always recommend to new rose gardeners. While it does have some formidable prickles, it more than makes up for that with it's incredible vigor, disease resistance and strongly-scented, crimson flowers which bloom all season. Like many David Austin roses, 'Munstead Wood' can also be grown in a large container!" Laurie Lewis from Hedgerow Rose
Zones: 6-9
Use: 3' by 2.5' garden shrub for beds, borders or container
Characteristics: Old rose berry fragrance, 70-75 petals, very full cluster-flowered globular reflexed bloom form, long stem for cut flowers
Tropical Lightning, Weeks Roses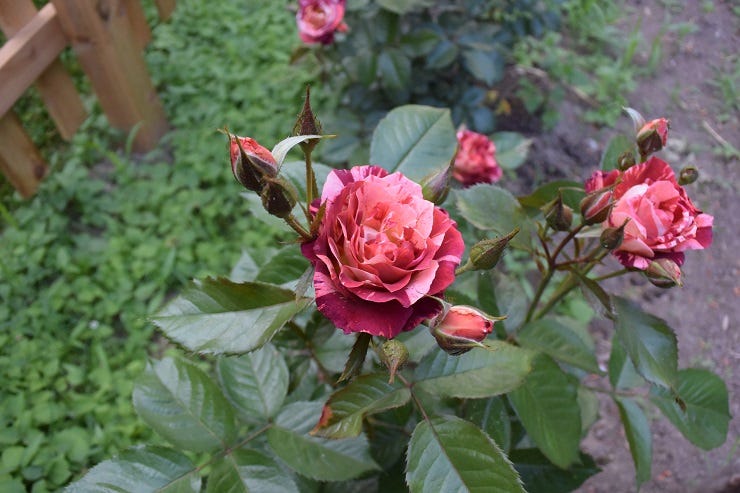 "Hard to believe I'm growing over a dozen different varieties of roses in my country garden here in Ohio naturally. Over the years I've learned ways to feed and grow the roses with little to no maintenance. Of course all the amazing new varieties that allow home owners to grow roses carefree is a bonus and only adds to my success creating my own rose garden. This year, I tried a few new roses from various breeders including this Tropical Lightning climbing rose.
"This climbing and spreading rose is part of the 2017 introductory roses by Weeks Roses and hybridized by Pierre Orard. Tropical Lightning is truly a one of a kind flower that is unique because of its extraordinary color blend. The tropical warmth comes in the form of a rich sunset-like orange while the dazzling lightning is generated by bright cream stipes. The effect is accentuated by a layer of purple smoke creating a burnt orange combo, perfect for a storm sky. The color of these novel blooms held shape for days even during the drought in my garden this summer. Moderate fruity to apple like scent is a bonus but honestly what I love most about this rose is the unique color of blooms and how easy it was to grow in my Ohio garden." Bren Haas from Creative Living and Growing with Bren.
Zones: 5-9
Use: 8′ to 12′ high climbing rose or medium-size shrub
Characteristics: Moderate apple-like fragrance, 20-30 petals, double and formal bloom form, medium stem for cut flowers
Pretty Lady Rose™, Weeks Roses & Francis Meilland®, Hybrid Tea
"'Pretty Lady Rose' by Weeks Roses and 'Francis Meilland' by Star Roses both spectacular hybrid tea roses. 'Francis Meilland' was chosen at the Biltmore Rose Trials as 'Best Hybrid Tea' while I was a judge last May at The 'Biltmore International Rose Trials'. Both roses have all the characteristics folks identify as the most important traits they look for in a rose they want in their garden; beauty, form, fragrance, color and minimal care." Susan Fox from Gaga's Garden®, author of Four Seasons of Roses, awarded The American Rose Society's Presidential Citation for Promoting the Rose and Rose Education Via Social Media, and she is on the public relations committee of the Board of Directors of the World Federation of Rose Societies (WFRS). Her rose photography is part of the Getty and iStock portfolio features.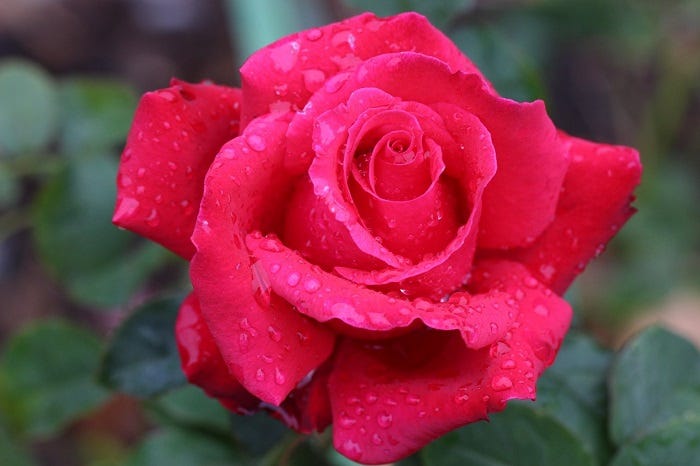 Pretty Lady Rose
Zones: 4-10
Use: 3' by 4' garden shrub for beds, borders, containers
Characteristics: Mild peony-like spice fragrance, 45-65 petals, old-fashioned ruffled bloom form, continuous blooming, very disease resistant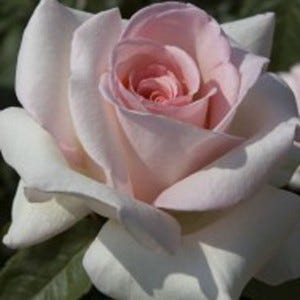 Francis Meilland
Zones: 5-9
Use: 3' by 4' garden shrub for beds, borders, and landscape
Characteristics: Strong citrusy fragrance, 37-65 petals, high-centered to cupped bloom form, blooms in flushes, flowers drop off cleanly, long stem for cut flowers
What to Look for in a Rose
Here are a few things to look for in a healthy rosebush:
Always check the root system to make sure it looks healthy. If the root system has been cut back drastically or it's a poor graft, it may not survive.
Check for insect damage or signs that the plant may be diseased. Look at any petals that have bloomed, and check the stems carefully.
Remember that you get what you pay for. $9.99 roses in plastic bags may appeal to your budget, but chances are good those roses aren't very hardy.
If your local nursery has a disappointing selection, you can shop online to find healthy plants for your garden. Most companies will ship bare root roses to your door in 24-48 hours. You can also find a wider selection of roses online.
How to Care for Roses
Some people think roses are finicky, but more than likely these are gardeners who just didn't know how to take care of roses or bought the wrong cultivar. With proper care, roses are easy to grow and maintain.
Always talk to someone from your local nursery or your local chapter of American Rose Society about the best care for the rosebush you choose, and read any information provided on your plant. Plant tags will often include how much sun a plant needs, along with other basic plant requirements.
Not all roses are disease resistant and some may only be resistant to certain types of problems. Make sure you know what kind of disease or local insects your roses may be susceptible to. Watch for signs of mold, rust, mildew or black spot disease and try to prevent them if you know your rose is susceptible. Use Safer® Brand's Rose & Flower Insect Killer to keep your rosebush bug free.
Research if your rose is the type that needs deadheading. Deadheading is the process of cutting off or snapping spent blooms to trick the plant into producing new blooms. Deadhead at an angle away from the node and slightly above it.
Not every rose requires deadheading or constant pruning. Flower Carpet roses are considered 'self-cleaning' and only need to be cut back before winter.
Do your roses have black spot? Read our guide on how to get rid of black spot on roses.
No matter which type of rose you choose to grow, you can be sure these classic flowers will bring color and beauty to your garden for as long as they live. The tenderness and love you give your plants will show in every bloom!