Safer® Brand Moss & Algae Killer & Surface Cleaner - All Questions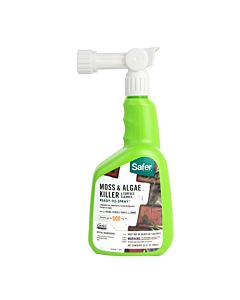 Safer® Brand Moss & Algae Killer & Surface Cleaner
How far does this reach?

If I need to user in a Mack pack sprayer to shoot it further, what is the dilution ratio?
Question by: Robert James on Dec 21, 2021, 6:50 PM
The distance of the spray depends on the water pressure applied. This product does not need to be diluted as it is Ready-To-Use.
Answer by: Brandon Deleon on Dec 22, 2021, 8:49 AM
Can Safer Moss & Algae killer & surface cleaner be used on brick pavers?
Question by: Jerry on May 20, 2022, 2:10 PM
When applied as directed, this product may be used on pavers, although we recommend testing in a small, inconspicuous area prior to overall application to check for staining.
Answer by: Kathryn Tator on May 20, 2022, 2:18 PM