Safer® Home Diatomaceous Earth Ant & Crawling Insect Killer - All Questions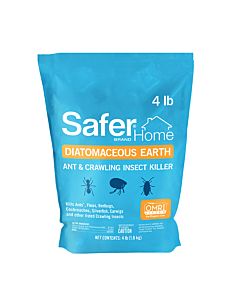 Safer® Home Diatomaceous Earth Ant & Crawling Insect Killer
This product lists diatomaceous earth at 85% and 15% "other ingredients". How is this product different than Food Grade DE? What is in the 15% other ingredients?
Question by: Heather Hall on May 4, 2023, 10:21 AM
Our DE is naturally sourced, and therefore there will be other ingredients found alongside the silicon dioxide (minerals and oxides). These ingredients are naturally present in the DE and are not additives.

Because this product is intended for use as an insecticide, it is not considered food grade.
Answer by: Susan (Admin) on May 9, 2023, 9:48 AM
What percentage of this product is crystalline silica?
Question by: EB on Jun 10, 2023, 11:26 AM
Our Diatomaceous Earth is non-crystalized as it is the amorphous variety. The product contains less than 1% Crystalline Silicon Dioxide.
Answer by: Lauren Potter (Admin) on Jun 12, 2023, 1:55 PM