Organic vs. Natural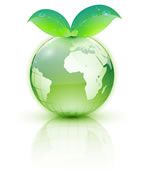 In the world of pesticides and repellents, the words "organic" and "natural" are often mistakenly used to replace one another.
To be an "organic gardener," one might use pesticides or repellents that have been approved for use in organic gardening. No such certification exists for a product to be "natural" or even "all-natural." Want to clear up the confusion? Keep reading!
What Defines 'Organic?'
As we mentioned earlier, to be an "organic gardener" one might use pesticides or repellents that have been approved for use in organic gardening.
So, products that are certified for use in organic gardening, which have gone through a battery of tests and reviews from third party agencies to earn this prestigious designation, are sitting beside products that misleadingly use the words "natural" or "organic" (without any validation) to describe a product that may only contain a few ingredients found in nature, but mostly containing artificial chemicals, harmful to your health.
That is why the USDA and recognized, non-profit institutions such as the Organic Materials Review Institute should be important to you.
These agencies work to take the confusion out of buying products for use in organic gardening. We will inform you on how to understand product labels to recognize certified products so you can make an informed decision and buy organic!
National Organic Program (NOP)

What is it?
The National Organic Program (NOP) is the federal regulatory framework, governing organic products. Administered by the USDA, it monitors all aspects of product production, processing, delivery and retail sale to ensure its organic nature.
Under the National Organic Program, manufacturers who wish to use the "for organic gardening" seal on their products must use materials that are on the NOP's list of materials approved for organic production.
Safer® Brand offers a wide array of products 'compliant for use in organic gardening' including the extremely popular EndAll™ Insect Killer which kills up to 45 different types of pests!!
Organic Materials Review Institute®

What is it?
OMRI® is an independent national nonprofit organization that determines which products are allowed for use in organic production and offers certifications based on whether or not a product meets their requirements.
OMRI® provides organic growers, manufacturers, and suppliers with an independent review of products intended for use in organic production, handling or processing.
Examples of OMRI® Listed products are fertilizers & pesticides used for organic farming as well as feed supplements for organic animal production & organic gardening. OMRI® has assembled a national board of experts from the organic industry that review, not only the ingredients contained in a product, but also the sources of those ingredients and how they are processed.
OMRI Listed® Seal
Products that pass the OMRI® review carry the OMRI Listed® Seal and appear on the OMRI® Brand Name Products List. The OMRI Listed® Seal assures the suitability of a product for organic production, handling and processing.
Safer® Brand proudly offers the largest array of OMRI Listed® organic gardening products on the market.
EPA/25(b) List
What is it?
The United States Environmental Protection Agency (EPA) has set forth the 25(b) Active Ingredient Exemptions List , which contains the active ingredients that are known as "minimum risk pesticides," exempting them from the requirements of federal registration under the Federal Insecticide, Fungicide, and Rodenticide Act (FIFRA), allowing products to be labeled according to the guidelines set forth by the USDA.
Criteria
The use of 25(b) active ingredients for pesticide products must comply with the following criteria:
Must be formulated using only the EPA's list of 4A inerts (Minimal Risk Inerts).
Active ingredients must be listed by name and percentage on the product label.
All other ingredients must be listed by name on the product label.
Label must not have any false or misleading statements under 40 CFR 156.10 (a)(5)(i)-(viii).
Products containing active ingredients listed as 25(b) are exempt from the requirements of FIFRA, alone or in combination with other substances provided that all of the criteria are met. These active ingredients are either biologically derived or listed as a food additive by the FDA.
Inert ingredients in pesticides are those ingredients that are not intended to affect a target pest but are added to enhance some characteristic, for example the pesticides solubility in water.
Inerts are not necessarily harmless and some inerts may be quite toxic, and make up a large percentage of the product.
The EPA classifies inert ingredients in four lists:
List 1-Inert Ingredients of Toxicological Concern
List 2-Potentially Toxic Other Ingredients/High Priority for Testing Inerts
List 3-Inerts of Unknown Toxicity
List 4A-Inert Ingredients of Minimal Concern
List 4B-Other ingredients for which the EPA has sufficient information to reasonably conclude that the current use pattern in pesticide products will not adversely affect public health or the environment.
What you should know
Just because certain product ingredients find their place on the EPA 25(b) list does not mean the product is safe.
Certain companies abuse the verbiage and terminology allowed by highlighting words in their labeling. This is a way for companies to get around the strict rules and regulations that deem a product "organic." Do not be fooled by 'organic' imitations

Some non-certified products that tout organic ingredients display the claim "safe around children and pets." While a repellent may be intended to spray in secluded areas in your lawn or garden, kids and pets do not generally stay in a specific spot, and can become exposed to the harmful chemicals. Would you want your child or pet 'rolling around' in areas recently treated by harmful chemicals? By using products containing the USDA organic seal or OMRI® Listed seal on its labeling, such as Safer® Brand products, you take the worry out of the equation, and keep your family safe!
Clearing the Confusion
According to the guidelines set forth by FIFRA, any product that makes a pesticide claim must be registered with the EPA so that the product can be reviewed against standards for human health and environmental safety.
An exception to this rule exists for products based on certain active ingredients; the 25(b) List, which are considered minimum risk products.
This allows leeway for a company in presenting its product, potentially misleading the customer into thinking that they are buying organic products when they are not.
For exempt pesticides, all inert ingredients must be on EPA List 4A, and must be disclosed on the label. Certain products may be marketed as EPA-exempt by listing an active ingredient that appears on the 25(b) List, claiming all other ingredients are non-active. This could cause some confusion as to the nature of the product.
Conclusion
Be wary of companies who use words like "organic" or "'natural" all over their label without proper certification from the USDA or OMRI®.
An example of how a label can mislead the consumer by using statements such as "Made with 100% Certified Organic Oils." This manufacturer tries to pass the product off as being fully "organic." These companies rely on and expect consumer ignorance.
Fancy labeling and the word "organic" typed in a large font does not make a product organic!
Shop confidently by using products that are certified organic! Safer® Brand has the largest array of OMRI Listed® and USDA Compliant for Organic Gardening products.
Around the world, legislation is in the works to regulate companies that have attempted to lead the consumer astray with misleading claims on their labeling. These calls to justice are in direct relation to companies not policing themselves efficiently, creating a need for governments to step in and provide a framework for proper labeling.
Safer® Brand brings you a variety of effective garden care products that are gentler on the environment! Most of them proudly display the OMRI Listed® organic seal and comply for use in organic gardening!