Safer® Brand Clothes Moth Alert Traps
As low as
$11.99
Regular Price
$11.99
Safer® Brand Clothes Moth Alert Traps
137
4.3
5
1
Earn 220 rewards points on your purchase! Learn More
Safer® Brand moth trap protects clothing and furniture from costly moth damage
Designed to alert you to moth problems
Traps can last up to 12 weeks
Contains a patented pheromone lure to traps adult moths, not larvae
Includes 2 traps per box
1 or 2 traps can protect average-size room for 12 weeks
Available in 2-pack, 6-pack or 16-pack quantities
Safer® Brand Clothes Moth Alert Traps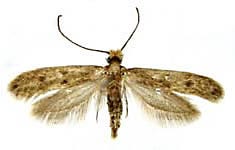 Don't let moths dine on your best dinner jacket or your favorite dress! Our clothes moth traps will alert you to moth problems and help to prevent moth damage.
The Safer® Brand Clothes Moth Alert Trap will lure adult moths using powerful pheromones and then trap them. Our clothes moth traps offer an economical and convenient pest control solution to moths damaging your furniture and clothing. Our clothes moth traps lasts up to 12 weeks as they trap adult moths. By trapping adult moths, you will break the breeding cycle in your home and deliver the moth control you need. Available in pack sizes - 2 traps, 6 traps, 16 traps.
Directions for Use:
Hang clothes moth traps at eye level in closet and rooms to be protected. Pay special attention to items containing wool, cashmere or other animal hair.
Use one or two clothes moth traps for an average size room. Too many traps in one area may confuse the moth and make the trap appear to not work properly.
Replace clothes moth traps after 12 weeks.
Available in 2 trap, 6 trap and 16 trap packs
Safer® Brand Clothes Moth Alert Traps
Model Number
C07270
Package Contains
2 clothes moth traps, 2 pheromone lures
Available Sizes
2 pack, 6 pack, and 16 pack
Required
Only 1-2 traps required for the average size room
Protects
furniture and clothing from moth damage, lasting up to 12 weeks
Storage
Unopened package should last up to several years
I have purchased this product in the past, but could not get the savings rewards applied to my order. What should I do this time?
Question by: DANIEL MANCINI on Nov 10, 2021, 9:48 PM
The Rewards Points will automatically be applied to your order during check out. Please remember that you must be signed into your account to use them! Please give us a call at 855-767-4264 for additional assistance.
Answer by: Rachel Faust on Nov 11, 2021, 8:18 AM