Lawn Care 101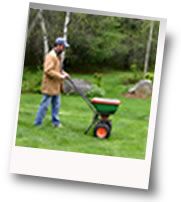 A nice lawn enhances your home's curb appeal and gives you a spacious place to play and relax outdoors. But you don't need to labor for hours or spend a lot of money to get it. With a few simple strategies that work with, rather than against, nature, you'll have a thick lawn that asks little of you. With these tips, you'll be amazed at how easy it is to maintain a beautiful lawn, and how much more time you'll have to enjoy it.
Check Out Our Helpful Lawn Care Resources Below
Lawn Care 101 gives you access to a wide range of valuable lawn care advice. Discover the advantages that OMRI Listed® lawn care treatments offer over traditional chemical pesticides. If it is OMRI Listed® you can be assured that it is compliant for use in organic production. You can also learn more about soil biology and the role it plays in the development of a healthy lawn. Get useful lawn care tips that enable you to win the battle against nuisance animals, grubs and other lawn-ruiners. Receive easy-to-follow lawn care advice and tips for maintaining a healthy lawn throughout the year, including how to get rid of those relentless weeds and keep them from coming back.
Do you know the difference between compliant and traditional chemical-based fertilizers? Here you'll learn important information on the dangers of chemical fertilizers and how you can achieve a beautiful, lush lawn with OMRI Listed® products that are deemed compliant for use in organic Gardening.
Learn more about Compliant vs. Traditional Treatments »
Growing a thick and healthy lawn depends less on what you do above ground as what you do to the life below the surface. Soil that has a lot of earthworm and microorganism activity is ideal for growing healthy grass.
Learn more about Soil Biology »
Grubs can turn your beautiful green turf into a brown-spotted mess. Follow our tips to get rid of these pests and keep them from coming back.
Learn more about Grub Control »
Check out our tips and checklists to ensure you're following the right schedule when it comes to applying lawn care products. Our maintenance tips will keep your lawn looking great all season!
Learn more about Lawn Maintenance »
Unwanted weeds are a major annoyance when you're trying to keep a nice healthy lawn. We offer smart and simple strategies to keep weeds from overwhelming your lawn, and without risking your family's health by spraying harmful chemicals.
Learn more about Weed Control »
One of the most frustrating things for a homeowner, especially after they've taken the time to grow a beautiful lawn, is when they have unwelcome animal visitors causing damage on their property. Have no fear, there are ways for you to prevent animals from destroying the fruits of your labor, and keep them out!