Lawn Maintenance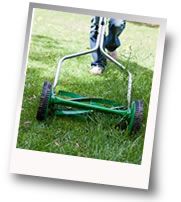 When it comes to having a beautiful lawn, timing is everything. Application of certain products in the right timeframe can make all the difference. Here you'll find application calendars, checklists and expert advice to help you grow your most healthy lawn yet.
Posters & Checklists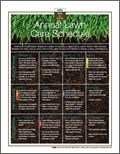 Annual Lawn Care Schedule
Timing is everything when it comes to having a beautiful lawn. Hang this poster where you will see it, And give your lawn attention when it makes a real difference.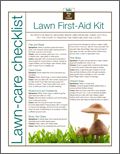 Lawn First-Aid Kit
No need for drastic measures when lawn problems strike. Just pull out this guide to treating the symptoms and the causes.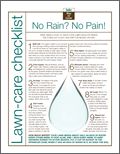 No Rain? No Problem
Nine simple steps to keep your lawn healthy when the forecast is hot and dry for weeks on end.
Expert Advice
Do It Yourself Organic Lawn Care
You don't need strong chemical weed killers and unnatural fertilizers to have a beautiful lush lawn. Not only are these products harmful for the environment but they're not safe for pets or kids!
By following our organic lawn care schedule and tips below, you can be confident your lawn will be ready for barefoot kids and family picnics all summer long.
Why Is My Lawn Dying?
Do you have ugly brown spots of grass in your lawn?
Learn how to fix dead grass with this soil jar test to figure out which soil amendments you need to add to your lawn.
How To Prepare Your Lawn For Winter
As winter approaches, you should take special care to maintain a gorgeous lawn, but the proper approach depends on where you live. Warmer climates with mild winters can maintain a green lawn year round. Lawns in colder climates need to prepare for the harsh snowfall.
e-Books
Thicker, Greener, Healthier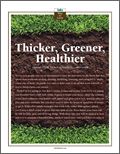 Simple Steps To Your Lushest Lawn Ever
You've seen people who are so determined to have the best lawn on the block that they spend their weekends seeding, mowing, fertilizing, watering, and caring for it. Maybe you're one of them. Or maybe you can't or don't want to do all that work yourself, so you've hired a lawn-care service.
Safer® Brand leads the alternative lawn and garden products industry, offering many solutions that are compliant with organic gardening standards. Safer® Brand recognizes this growing demand by consumers and offers a wide variety of products for lawns, gardens, landscapes, flowers, houseplants, insects and more!