Safer® Brand Critter Ridder® Animal Repellent Ready-To-Use Spray 32oz OMRI Listed® for Organic Use
Safer® Brand Critter Ridder® Animal Repellent Ready-To-Use Spray 32oz OMRI Listed® for Organic Use
8
2.5
5
1
Earn 440 rewards points on your purchase! Learn More
Repels skunks, groundhogs, dogs, cats, squirrels and raccoons
Repels nuisance animals by scent and taste
Long-lasting formula provides up to 30 days of protection
Use on garbage bins, plants, mulch, or other outdoor surfaces
Dries odorless to humans
One 32 oz bottle treats up to 320 sq ft
Best Used For





Safer® Brand Critter Ridder® Ready-To-Use Animal Repellent Spray
The Safer® Brand Critter Ridder® Animal Repellent Ready to Use Spray is proven to keep pests from invading your yard. The dual-action formula repels by releasing an intense odor and taste that is safe for the animal, but overwhelms their senses, quickly teaching them to avoid the area. Critter Ridder® is effective against dogs, cats, groundhogs and other animals. The 32 oz spray covers a 320 sq ft area for up to 30 days, leaving time for you to enjoy your outdoor space!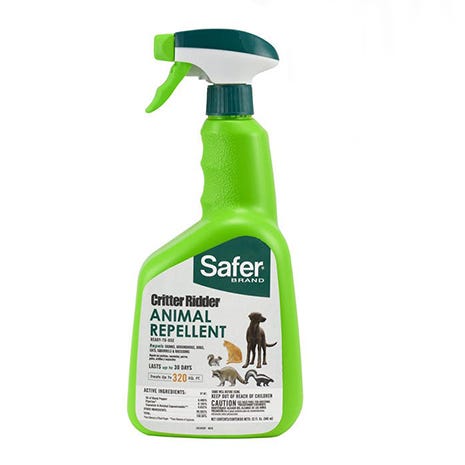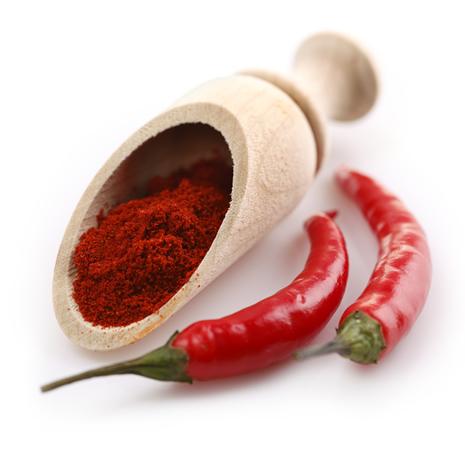 Simple and Natural Ingredients
The spray repels by attacking the animal's senses, using three intense but simple ingredients. The formula contains a combination of piperine, oil of black pepper and capsaicin, creating an unpleasant taste and smell for the animals. Best of all, Critter Ridder® dries odorless to humans.
Easy to Apply!
Critter Ridder® comes in a convenient spray bottle that is 100% ready-to-use. There's no need to mix with water! Simply point at the area you would like to keep animal free, and spray! This product works best when applied to dry surfaces. It may need reapplied sooner if you have been experiencing heavy rain.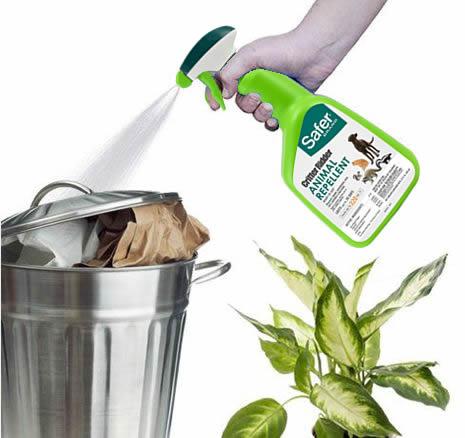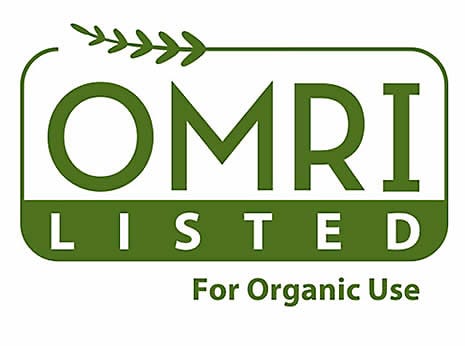 Organic Gardeners Apply With Confidence
An alternative to synthetic chemical repellents, Critter Ridder® gives you confidence that you are using the best formula for your home and for the animals you are repelling. Furthermore, Critter Ridder® is OMRI listed®, and USDA approved for use in organic gardening, so it is perfect for even the most eco-friendly gardening and landscaping regimens.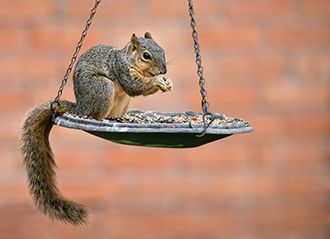 Where to Use Critter Ridder®
Critter Ridder® can be used to protect a variety of areas including garbage bins, gardens, sheds, paths, and other outdoor surfaces. Apply it directly to soil, grass or mulch for border protection. The spray is also safe to use in bird feeders, keeping squirrels away without disturbing the birds.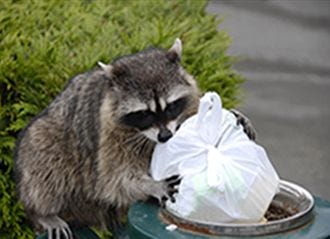 Safer®Brand Critter Ridder® Ready-to-Use Animal Repellent Spray Product Details
Do you want to know more helpful details about Safer®Brand Critter Ridder® Ready-to-Use Animal Repellent Spray? Take a closer look at the in-depth specifications for this product.
Safer®Brand Critter Ridder® Ready-to-Use Animal Repellent Spray
Model #
5935
Presentation
Ready-to-use Spray
Coverage Area
320 sq ft
Active Ingredients

Oil of Black Pepper
Piperine
Capsaicin
Safer®Brand Critter Ridder® Animal Repellent Ready-To-Use Spray 32oz OMRI Listed® for Organic Use
Model Number
5935
Size
32 oz RTU Spray
Coverage
320 sq ft
Presentation
Ready-to-Use Spray
Active Ingredients
Oil of Black Pepper, Piperine, Capsaicin
OMRI Listed®
Yes
Customer Reviews
13%
of customers
recommend this product
My safer spray unit is clogged up. How can I get it to work? Thanks
Question by: Mark stein on May 9, 2023, 9:20 AM
If clogged, we recommend soaking the sprayer in warm water and rinsing well.
Answer by: Susan (Admin) on May 9, 2023, 11:54 AM