Safer® Brand Japanese Beetle Trap
As low as
$29.89
Regular Price
$10.49
Safer® Brand Japanese Beetle Trap
36
4.4
5
1
Earn 580 rewards points on your purchase! Learn More
Includes 1 trap, 1 lure, and 2 bags
Jumbo bags
Uses food and sex attractant to lure insects into the trap
Controlled release system maximizes the life of the attractant
Attracts and traps Japanese Beetles
Available pack sizes - 1 pack or 3 pack, or 6 pack
Best Used For

Safer® Brand Japanese Beetle Traps
The Safer® Brand Japanese Beetle Trap uses a food and sex attractant to lure Japanese beetles into the trap and, in turn, disrupts the mating cycle. This kit includes everything you need to stop an infestation – a trap, 2 bags, 2 baits, and a stand to hang it on. The controlled release system maximizes the life of the attractant and protects the attractant from environmental degradation. Place this assembly at least 10 feet away from plantings to prevent defoliation.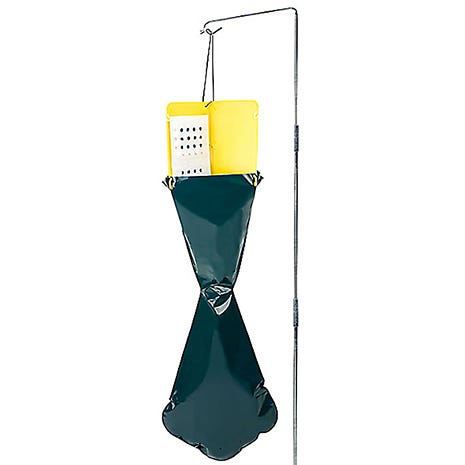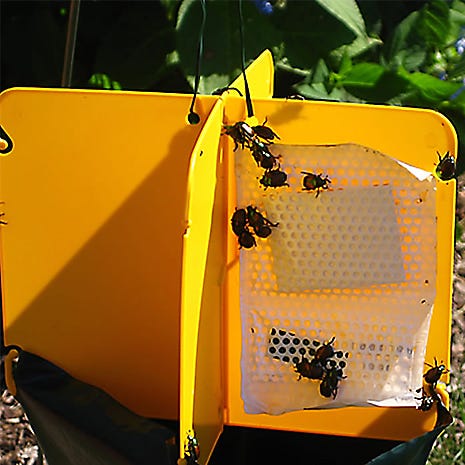 How Baiting Works
The included Safer® Brand Japanese Beetle uses a food and sex attractant to lure insects into the trap and disrupt the mating cycle of destructive Japanese Beetles. This Japanese Beetle Bait uses no sprays and has no mess. Under ordinary weather conditions, this bait should last about 12 weeks.
Placement Tips
Japanese beetles pose a significant threat to gardeners. These destructive pests can "skeletonize" plants by feeding on the leaf material between the veins, and they'll even consume the plant fruit. Place the trap at least 10 feet away from plants to attract the beetles away from the target area. The 48-inch stand places the trap at the perfect height to intercept beetles as they fly by.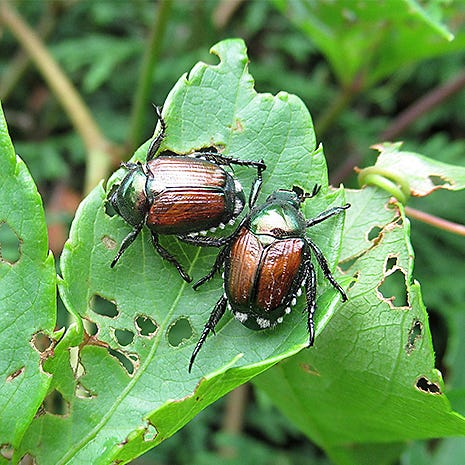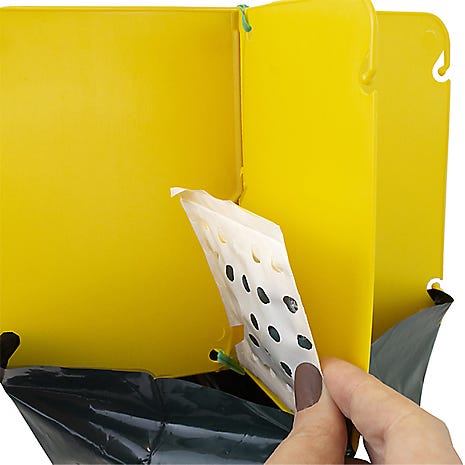 How to Use
For your convenience, the Safer® Brand Japanese Beetle Kit is easy to use and assemble. Be sure to replace bags when full. If trap catches decline and beetles are still present, replace bait pack. Remove traps from site when beetles are no longer present.
Slide the trap vanes together at the slots to form an "X" and attach them witha a twist-tie through the holes in the top vane.
Attach one of the collection bags by gently sliding the holes in the bag over the hooks on the lower end of the trap vanes.
Peel back the protective cover on the bait pack.
Remove the backing from the adhesive strip on the bait pack and attach it to the lower third of the trap vane.
Hang the trap by the vane on the included trap stand.
Safer® Brand Japanese Beetle Trap Product Details
Do you want to know more helpful details about the Safer® Brand Japanese Beetle Trap? Take a closer look at the in-depth specifications for this product.
Safer® Brand Japanese Beetle Traps
Model #
B70102-3
Each Box Contains
Trap, bait, and 2 bags
Quantity
3 boxes
Uses
Food and sex attractant to lure insects into the trap
Extra Large Bag
Catches more beetles
Controlled Release System
Maximizes the life of the attractant
Safer®Brand The Japanese Beetle Traps
Model Number
C70102
Box Includes
1 trap, 1 lure, and 2 bags
Available Sizes
1 pack, 3 pack, and 6 pack
Attracts and Traps
Japanese Beetles
Uses Food and Sex Attractant
To lure insects into the trap
Bags
Jumbo bags
Controlled Release System
Maximizes the life of the attractant
Customer Reviews
0%
of customers
recommend this product