You don't need strong chemical weed killers and unnatural fertilizers to have a beautiful lush lawn. Not only are these products harmful for the environment but they're not safe for pets or kids!
By following our organic lawn care schedule and tips below, you can be confident your lawn will be ready for barefoot kids and family picnics all summer long.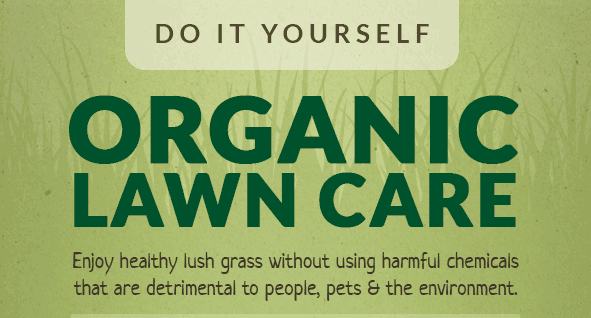 DIY Organic Lawn Care
Timing is key in organic lawn care. Below we've put together a schedule of what you need to do in each month. We've also listed some common lawn care problems, such as bare patches or brown spots in your lawn, and how to naturally fix these problems using DIY solutions!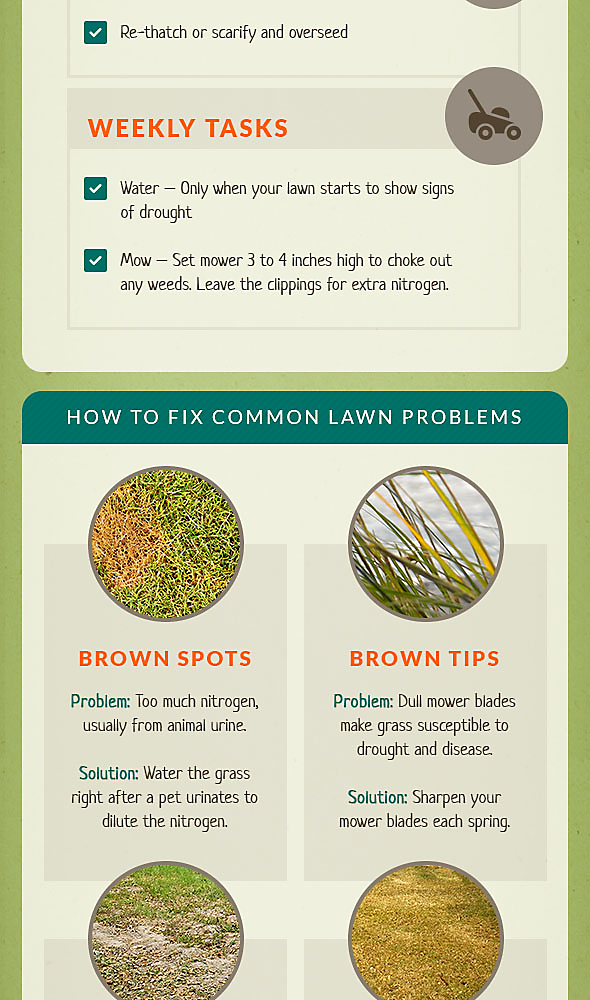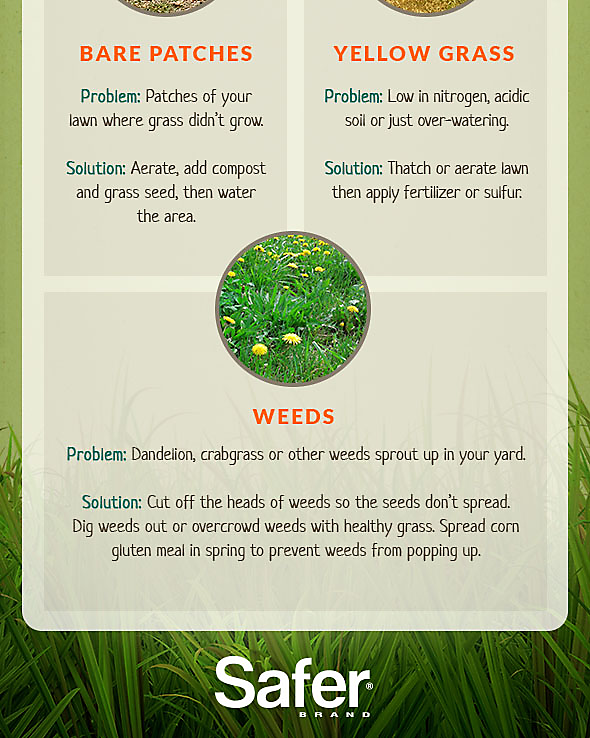 This work is licensed under a Creative Commons Attribution-NoDerivs 3.0 United States License.
Tools You Need for Organic Lawn Care
If you're a new homeowner or this is your first time doing organic lawn care yourself, here are a few products and tools you'll need to get started:
Organic grass seed
Lawn mower
Thatch rake
Aerator
Water sprinkler
Rake
Wheel barrow
Optional: Scarifier
Leaf blower
Garden lime
String trimmer
Organic Lawn Care Schedule
In March or as soon as the ground thaws enough for you to dig 4-6 inches deep, get your soil tested. A good lawn has at least 6 inches of soil.
While you can pick up your own soil test kit in the store, it's much more accurate (and usually only $10) if you get it done by your local extension office. If you find your soil's pH is below 6.0 add garden lime but if it's above 7.0 add garden sulfur. The experts at your local extension office will also be able to guide you in amending your soil and which grass or plants to grow. So don't be afraid to ask!
March or early spring is also a great time to clean up from winter by raking away dead leaves and branches. Learn how to use these in your compost pile here! Lastly, aerate your lawn. This allows water, nutrients and air to get to the grass roots after the snow has compacted your lawn tightly down over the winter.
By now, you should start your weekly or bi-weekly (depending on your grass and weather) tasks of mowing and watering. Only water your lawn when starts to show signs of drought. You can place a cup near your sprinkler to make sure your lawn gets at least 1 inch of water.
It's a common myth that you should mow your grass very short so that it will take longer to grow back. But this actually isn't true and will only weaken your lawn and invite weeds to grow. When you cut your lawn short, the grass blades just grow back faster in order to do photosynthesis for the roots. Ideally, for cool-season grasses set your mower blades 3.5-4 inches high and for warm-season grass set your mower lower to 2.5-3 inches.
If you can, you'll want to apply compost two times during the year, once in April and then also in August. This is commonly referred to as top-dressing. If you have any thin or brown spots in your lawn, compost will help nourish the beneficial microbial activity in the soil to grow thick, green grass.
You'll also want to apply fertilizer safe for organic lawns in April, July (if needed) and October. You can read our guide on how to fertilize your lawn to learn more.
Looking for the best fertilizer for your organic lawn? Here's what Paul Wheaton from Rich Soil says about our Ringer® Lawn Restore® Fertilizer: "If your lawn needs fertilizer, sprinkle a little Ringer lawn fertilizer in the spring and fall. Why this brand? Well, there is nothing scary in the ingredients list; it is a very slow release fertilizer without salts; the company appears to have passions well aligned with my own; and it works great."
The fall is a great time to rethatch your lawn and overseed bare patches to make sure your grass grows back strong the next year.