One Year Supply Lawn Restore Fertilizer - Medium Yards up to 10,000 sq ft - All Questions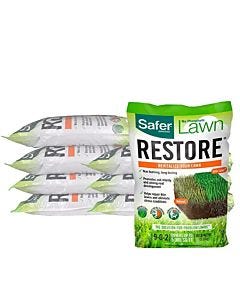 One Year Supply Lawn Restore Fertilizer - Medium Yards up to 10,000 sq ft
The picture for this shows 5-20 lb bags. Is that accurate? Each bag up to 5000 SF = 2.5 applications for 10,000 SF yard.
The package for 5000 SF yards shows 4 bags at half the price? I'm looking to pair spring weed control with restore for a 10000 SF yard. Any suggestions?
Question by: john gatses on Feb 11, 2022, 11:49 AM
This product is 8 20lb bags. For further information, please give us a call at 855-767-4264!
Answer by: Brandon Deleon on Feb 11, 2022, 12:00 PM