One Year Supply Lawn Restore Fertilizer - small yards up to 5,000 sq ft
Special Price
$119.99
Regular Price
$171.96
One Year Supply Lawn Restore Fertilizer - small yards up to 5,000 sq ft
15
4.8
5
1
Earn 2380 rewards points on your purchase! Learn More
Revitalizes lawn to a thick turf by strengthening root systems
Lawns start to green up within 3 to 5 days
Non-burning formula promotes soil vitality for a thicker, healthier lawn
Provides effective year-round care by helping plants withstand heat, cold and drought stresses
Safe for children and pets when used as directed
Covers yards measuring up to 5,000 square feet or 0.11 acres
Cannot Ship to:
AK, MD, MT, PR
Best Used For




Safer® Brand Lawn Restore® Fertilizer - Small Yards
Safer® Brand Lawn Restore® Fertilizer works quickly to help you create a revitalized lawn you'll love. Each bundle can provide a one-year supply (4 applications) of coverage for a small yard measuring up to 5,000 sq ft while providing all of the nutrients your lawn needs to revitalize to a thick turf for an entire year with just one product. The NPK ratio of nutrients provides your lawn and soil with all the nutrients it needs to promote soil vitality and healthy growth, develop robust root systems, repair thinning lawns, and alleviate stress conditions throughout the year. When used as directed, Lawn Restore® Fertilizer is safe for children and pets immediately after application.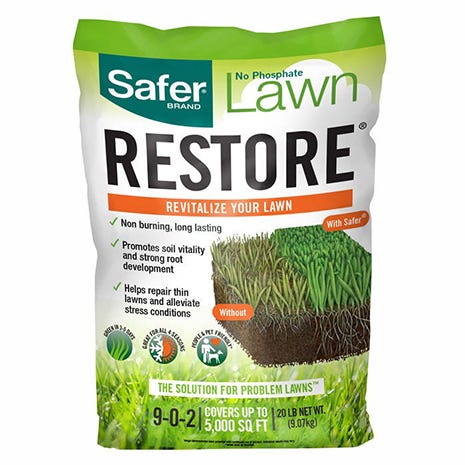 It's All In the Formula
With an NPK analysis of 9-0-2, you know you're giving your lawn the macronutrients it needs. The key to a great fertilizer is balance so the nutrients can be released proportionately over time. The most important nutrient for your lawn and soil is nitrogen, which is why it typically makes up the largest proportion of lawn fertilizers. Safer® Brand Lawn Restore® Fertilizer has no phosphorus because the last thing you want is to promote flower growth on your beautiful lawn! The potassium in this fertilizer promotes strong root systems to keep your lawn healthy for longer.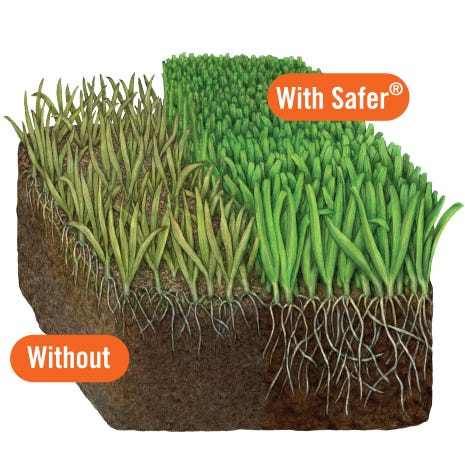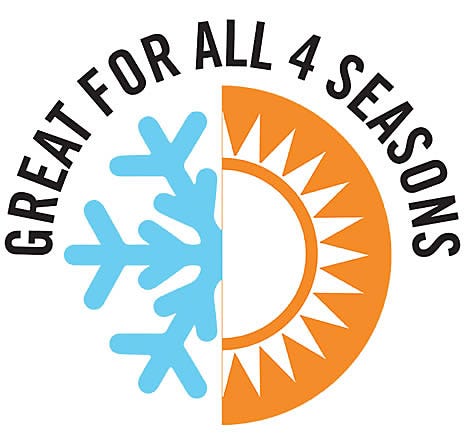 Year-Round, Long-Lasting Coverage
No matter the season, Safer® Brand Lawn Restore® Fertilizer can give your lawn the boost it needs to green up, get healthier, and develop strong roots. Plants need different levels of nourishment throughout their different life cycles. Grass stays in its vegetative state throughout its entire lifecycle, so it is easy to keep up with its needs. Whether its spring, summer, fall, or winter, this fertilizer will help you create the lawn of your dreams.
Natural fertilizers, like Lawn Restore®, treat both the plant and the soil for a healthy lawn that lasts. These types of fertilizers release nutrients into the soil over time to promote microorganisms, root systems, and overall plant health. Because the ingredients are all naturally derived, there is no risk of harmful runoff that could pollute the environment. Immediately after application, your lawn is safe for your kids and pets to continue playing.
Large Coverage Area
One bag of Safer® Brand Lawn Restore® Fertilizer goes a long way to revitalize your lawn. Each 20 lb bag offers up to 5,000 square feet of coverage. This bundle includes 4 bags so you can apply to your lawn 4 times per year. Lawn Restore® also simplifies your lawn care routine thanks to the easy, single-step application process. One product is all you need!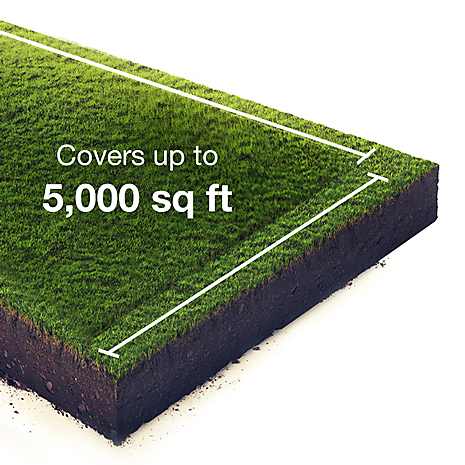 Safer® Brand Lawn Restore® Fertilizer Small Yards Product Details
Do you want to know more helpful details about Safer® Brand Lawn Restore® Fertilizer? Take a closer look at the in-depth specifications for this product.
Safer® Brand Lawn Restore® Fertilizer Small Yards
Model #
B9335SM1
Size
20 lb per bag
Quantity
4 bags
Coverage
5,000 square feet per application
Ingredient Specifications

9% Nitrogen
0% Phosphorus
2% Potassium

Usage Notes
Apply 4 times per year
Presentation
Granules
One Year Supply Of Lawn Restore® Fertilizer - Small Yard
Model #
B9335SM1
Presentation
Granules
Bag Weight
20 lb per bag
Quantity
4 bags
Coverage
5,000 square feet per application
$ / 1,000 sq ft
$6.99
Active Ingredients

9% Nitrogen
0% Phosphorus
2% Potassium

NPK Ratio
9-0-2
Usage Areas

Lawns
Landscaped areas around trees, shrubs and gardens

Application Method
By hand (with gloves) or by mechanical spreader
Longevity
Lasts up to 8 weeks per application
Usage notes

Lawns will begin to green up within 3 to 5 days.
Apply at any time during the growing season or when soil temperatures reach above 55°F. *NOTE* Please check local laws as some areas do not allow the application of nitrogen before March 15.
This fertilizer will work on warm and cool season grasses.
Water lawn immediately after applying Safer® Brand Lawn Restore® Fertilizer.
Excellent for thin lawns, sod, or seeding.
Customer Reviews
47%
of customers
recommend this product
How often do you have to water?
Question by: Mtfirst on Dec 7, 2022, 2:16 PM
We recommend watering the product immediately after application. For continued maintenance, you may water once or twice a week.
Answer by: Rachel Williams (Admin) on Dec 7, 2022, 2:30 PM