LOCAVORISM 101: The Good and the Bad About Eating Locally
Are you the type of person who screeches to a halt when you see a roadside strawberry stand? Or will happily drive 20 minutes out of your way to buy fresh eggs from the chicken farmer who raised them? If that sounds like you, then you're already on your way to locavorism.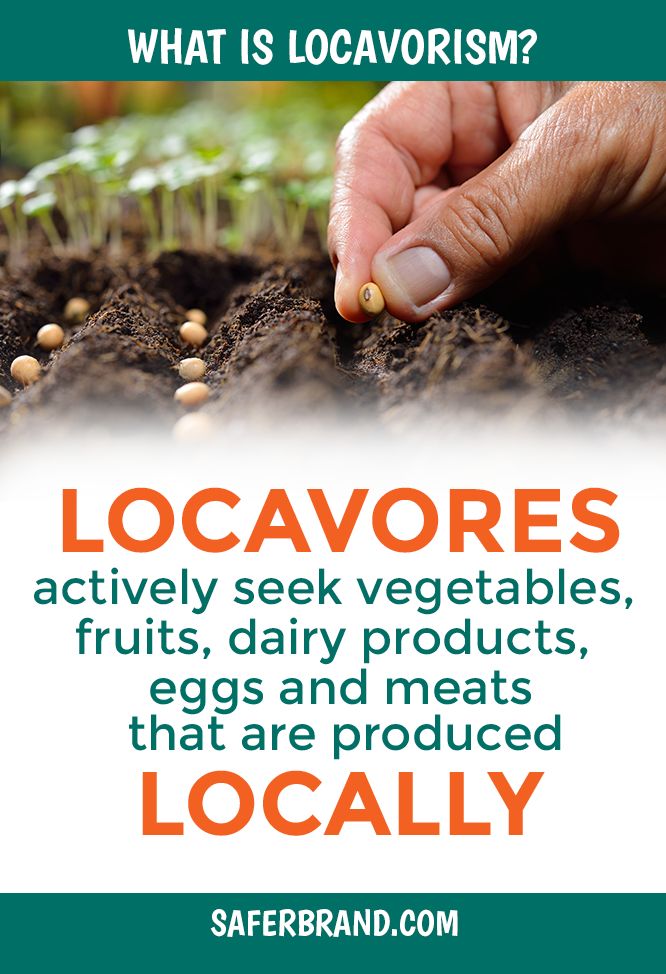 What is locavorism? Locavores are people who actively seek vegetables, fruits, dairy products, eggs and meats that are produced locally. The idea is that supermarkets, while inexpensive and able to offer seasonal foods all year long, aren't really offering the best food. They rely on a vast transportation network that delivers food from other states and other countries, which results in food of dubious quality.
Locavorism, however, favors food grown only a few miles from your home. In some instances that means hyper-local food – corn from the farm down County Route Whatever. In other cases, locavorists set a transport limit – they will only eat food that takes less than one day to get to your market. Other limits may be based on "neighboring counties," "within 300 miles," or even "organic only."
Regardless, the idea of locavorism is to eat foods that were produced nearby, which they say improves its quality. It also harkens back to "the good old days" when their ancestors didn't have the daily abundance provided by a supermarket – they were locavorists out of necessity and were healthier (and more resourceful) as a result.
PROS OF EATING LOCAL
Locavorists cite a number of benefits from eating a local diet that's grown nearby:
Tastes Better – Local food tastes better because it hasn't lost nutrients or started to spoil since its harvest.
Less Waste – Because the food was grown locally and delivered more quickly, less of it gets spoiled on the way to the table.
Fresher Food – Freshness comes hand-in-hand with a quick, local delivery shortly after harvest.
Improved Allergies – Eating local food exposes people to the allergens they're most likely to come in contact with, thereby "vaccinating" the consumer to better resist those allergens.
Shorter Travel time – The food travels shorter distances from field to plate, which greatly reduces CO2 emissions involved in trucking or flying the same food from across the country.
Promoting Small Businesses – Supporting local farming means you're helping out a small business, and dedicated locavorists are always eager and happy to help out "the little guy."
Strengthening the Local Economy – Spending your money with local growers adds direct fuel to the local economy since those growers buy supplies and pay bills locally.
Of course, the specific benefits of locavorism are up for debate – after all it's hard to prove that something truly tastes better or that locavorism is less wasteful of resources than a traditional grocery store diet. Still, these benefits are worth noting and, while not always tangible, they sure make sense!
CONS OF EATING LOCAL
While there seems to be great benefits for trying locavorism, there are also some challenges that locavorists encounter. If you're considering locavorism, then you may run into these problems:
Regionality – Not all of your favorite fruits and veggies are grown within a few hundred miles of your home, so, under the strictest guidelines of locavorism, you couldn't ever eat a banana again.
... SOLUTION: We recommend picking 10 items a month that let you break that rule.
Off-season Slump – Produce is seasonal, so for long stretches of the year, you can't have certain favorites, such as tomatoes. In fact, in the depths of winter, you may not have any fresh vegetables at all unless you can them yourself.
... SOLUTION: Try looking for greenhouses or hydroponic farms that grow all year round!
Cost Concerns – Just because a crop is raised locally, it doesn't mean that it will be inexpensive. Small farms have a lot of overhead costs that are concentrated on a small number of products, while a large factory farm can spread those costs out more effectively. This is why their pricing is so low.
... SOLUTION: Local products may cost more, but supporting neighbors goes a long way if you ask us!
Lack of Oversight – Factory and industrial farming adhere to government regulations far better than small farms do. This, again, is a matter of scale – it's more impactful for an inspector to keep an eye on a 300-acre wheat operation versus a 13-acre farm that has 3 acres of wheat, 6 acres of dairy pasture and a 1-acre vegetable plot.
... SOLUTION: The best way to allay your concerns is to simply ask the producer! If they're reluctant to discuss their growing methods, then it may be best to find another local resource.
Luckily, since there's no strict definition for locavorism, there's a lot of flexibility! For example, you could create a tight, local circle (within 100 miles) during the summer and then widen it considerably during the winter and early spring.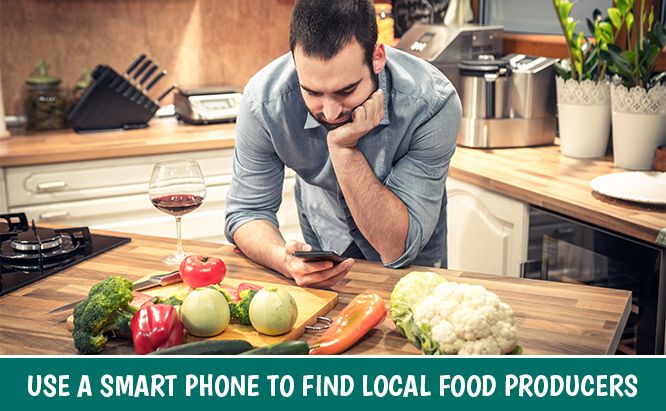 RESOURCES FOR LOCAVORISTS
The logistics of locavorism may seem daunting at first. In theory, you'll be spending a lot of time driving from one food source to another as you collect your groceries. After all, not all farmers raise potatoes, so you can't just stop at one roadside stand and get corn, potatoes and a half-gallon of milk.
The good news is there are resources to help you make the most out of your efforts.
Finding Local Food – Use registry websites to find all the farms nearby that are eager to sell directly to you. By supporting these small farms, you can develop a personal relationship with the people growing your food.
Apps – If you have a smart phone, check out the half-dozen or so apps dedicated to locavorism. These apps help you find the food you want, when you want it. Check out all the apps and see which one is most-used in your area. With the app operating, you can plan a shopping list and then have your smart phone's mapping app help you find the best route there!
Individual Farm Social Pages – If apps aren't your thing, look for local producers on Facebook, Instagram and Twitter. They regularly list what's new, fresh and available.
Support – Look for support of your efforts among the people who are active locavores. Check out the Local Food Challenge or get more guidance from Local Diet.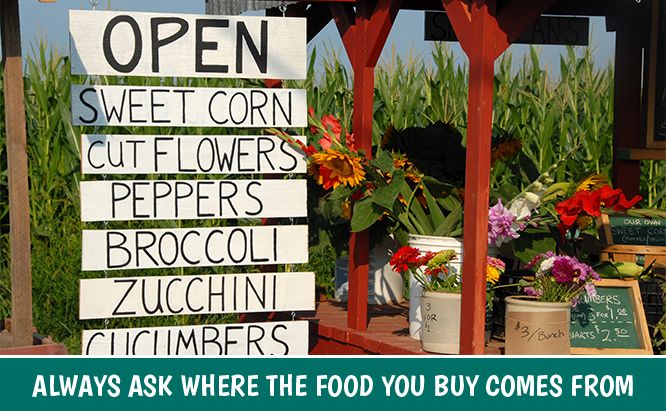 WHERE TO FIND LOCAL FOOD
To support your locavore efforts, you need to know where to get all that tasty, fresh food. Here are your top options:
Roadside Stands – These are the temporary, open-air booths you see along the road. They often sell fruits and vegetables grown in the fields behind the stand or very close nearby. Deals are great and the produce is very fresh. Be sure to quiz the booth attendant on growing methods if that matters to you.
Farmers Markets – These regional markets are usually set up with a number of stands manned by local farmers and producers. Customers wander from stand-to-stand to get what they need. These markets are where your local choice really stands out – you get your preferred producer and you can pick the best available product he or she has.
Farm Stores – These stores are different from Farmers Markets in that they are usually set up at an actual farm and often try to collect all the products from nearby producers as well. While they lack the diversity of a true farmers market, they make up for it with hyper-locality! It's not uncommon for these stores to offer a little bit of everything – veggies, fruit, berries, dairy and meat, but in fairly limited quantities. These stores are often run by the farmer or the farmer's family.
CSAs – Local growers establish Community Supported Agriculture groups to guarantee buys of their fresh, seasonal food. Essentially, you subscribe to their service and once a week during the season, you get bags of fresh fruit, meats and dairy that's just been harvested. Naturally, there is a lot of variety from week-to-week. Options are often available for special dietary concerns (vegetarian and so on).
Internet Exchanges – Social media sites can be a great place to find good local deals, and sometimes local growers post what they have to offer. Keep an eye out for these deals which are often the best around. If you don't have cash on hand, try bartering in exchange for your own goods and services. If you're a producer yourself, offer your own!
Community Gardens – Many neighborhoods and communities offer space for local growers in community gardens. See if you can reserve a spot for your own crop. Beyond deciding what you'll grow, it also offers you more time outside!
A word of warning: It's easy to assume that these vendors offer local food, it's not always guaranteed. Be sure to check labels and ask questions about the source of the food you're taking home.
It's also a good time to quiz the seller on the methods in which the food was developed. Is it organic? What kind of fertilizer is used? Are animals cage free? Is it a GMO? … The more you ask, the more you'll find out and the more the producer will understand how important it is to the consumer.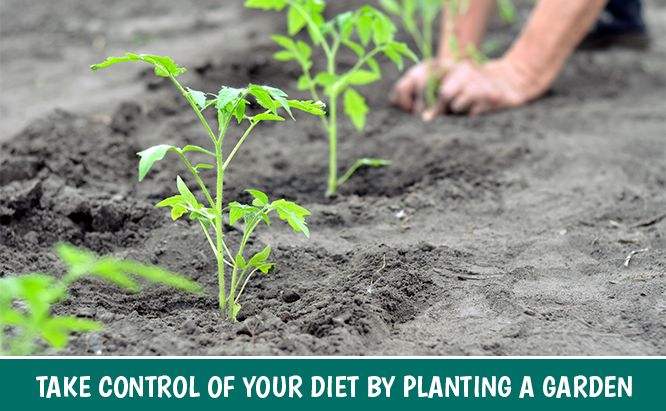 MAKING YOUR OWN LOCAVORE DIET
Are you interested in growing your own food? Safer® Brand is eager to help you through its line of OMRI Listed® gardening supplies. With Safer® Brand, you can grow vegetables and fruits according to your own values which lets you completely control what goes in your body.
To learn more about organic gardening, join Safer® Brand on Facebook and sign up for the Safer® Brand E-Newsletter. When you subscribe to the e-Newsletter, you get links to helpful articles like this one, new product announcements and links to your favorite OMRI Listed® Products.