Safer® Brand 16oz Caterpillar Killer II Concentrate OMRI Listed® for Organic Use
Special Price
$14.79
Regular Price
$17.49
Safer® Brand 16oz Caterpillar Killer II Concentrate OMRI Listed® for Organic Use
7
5
5
1
Earn 280 rewards points on your purchase! Learn More
Kills caterpillars, gypsy moth larvae, worms and cabbage loppers
Effective method of eliminating the garden or field of the tomato hornworm without environmental concerns or harm to beneficial insects
Can be used up until day of harvest
OMRI listed®
Contains bacillus thuringiensis var Kurstaki-98.35%
Safer® Brand Caterpillar Killer II Concentrate With B.T. - How It Works
Safer® Brand Caterpillar Killer Concentrate uses a naturally occurring bacterium to kill and control caterpillars and other leaf-eating worms. The caterpillars and worms that are damaging your plants will stop feeding immediately after ingesting the bacterium, which is known scientifically as Bacillus Thuringiensis var. Kurstaki (B.t. for short). Plus, when Caterpillar Killer is used as directed, it has no effect on birds, earthworms, or beneficial insects such as honeybees and ladybugs.
This economical concentrate is easy to mix into a ready-to-use solution. And, because Caterpillar Killer is OMRI Listed® and compliant for use in organic gardening, you know that you're controlling leaf-chomping caterpillars in a way that fits into your organic garden plan.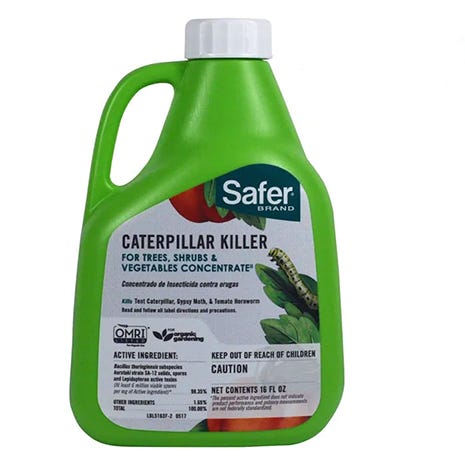 Best Used For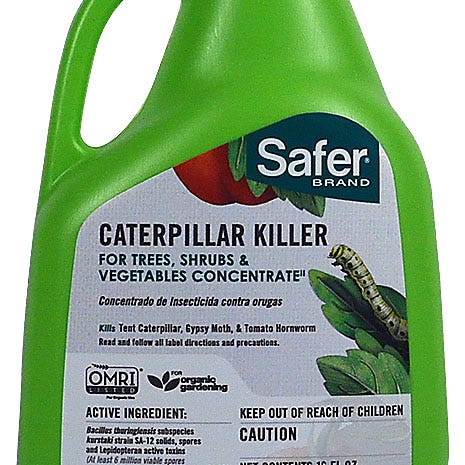 Say Goodbye to Caterpillars & Leaf-Eating Worms
Fruits, vegetables, shade trees and ornamentals are all susceptible to the damage from worms and caterpillars. These nuisance pests will eat their way through foliage and cause irreparable damage to plants extremely quickly. That's why it's important to stop these caterpillars and worms right away with Safer® Brand Caterpillar Killer!
Target These Pests
Use Safer® Brand Caterpillar Killer Concentrate to target these problem insects:
Tent Caterpillars
Gypsy Moth Caterpillars
Tomato Hornworm
Cabbage Looper
Imported cabbage Worm
Bagworm
Spring Cankerworm
Fall Cankerworm
Elm Spanworm
Fall Webworm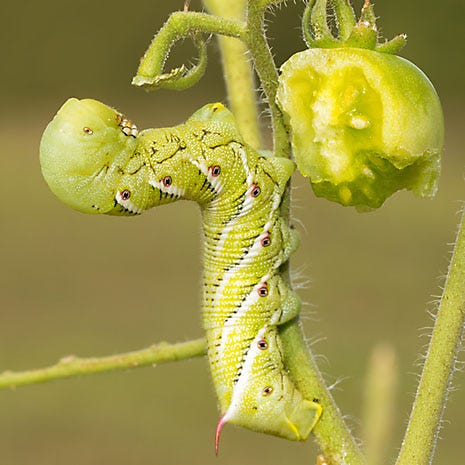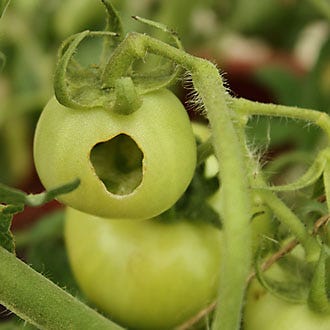 Identify Damage
Eliminate a variety of caterpillar & worm species. Visible damage from each will be different. Tomato hornworms eat entire leaves, stems, and the fruit of the plant, causing it to look like someone took a bite. Other worms, like tent caterpillars & fall webworms, form webs on trees & shrubs resembling white bags made of spiderwebs. Below these "tents" are dozens of caterpillars eating the leaves.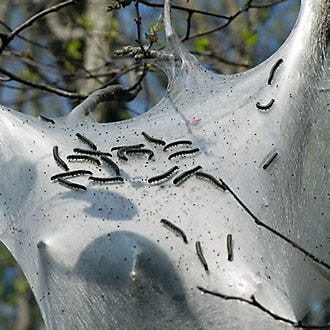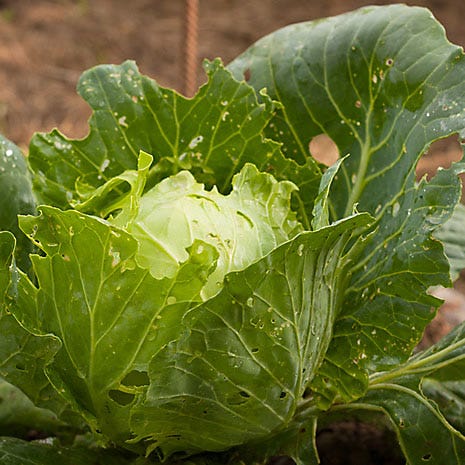 B.T. To the Rescue
Bacillus thuringiensis var. kurstaki is a naturally occurring bacterium that kills certain leaf-eating worms and caterpillars. Simply spray Caterpillar Killer onto trees, shrubs and vegetables so that worms and caterpillars eat the treated vegetation.
The bacterium includes a toxin that stops them from feeding or causing more damage to your plants. Within a few days, effected caterpillars and worms will die of malnutrition. Safer® Brand Caterpillar Killer can be used until the day of harvest, so you can protect your plants through their entire growth cycle.
Won't Harm Beneficial Insects When Used as Directed
Safer® Brand Caterpillar Killer controls and eliminates a variety of destructive caterpillars and worms. When used as directed, this treatment won't harm birds, earthworms and beneficial insects, such as honeybees and ladybugs. These beneficial organisms are important to our ecosystem, and their survival is vital to the continued production of nutrient rich soil and the natural pollination process of flowers, fruits and vegetables.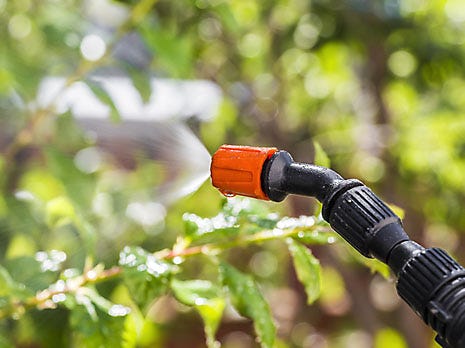 How to Use Caterpillar Killer
Mix caterpillar killer as directed to achieve desired amount of solution. Once Caterpillar Killer is sprayed onto plants and the treated vegetation is ingested by caterpillars and worms, feeding and damage will stop immediately. Keep in mind that more caterpillar eggs may hatch, so it's best to monitor the area for newly hatched pests even after treatment. If more caterpillars are noticed, you may need to repeat the treatment again after 5-7 days. It's recommended to apply Caterpillar Killer late in the afternoon or on cloudy days as B.t. can breakdown in excessive sunlight.
An Economical, Easy-to-Mix Solution
This 16 oz bottle contains a concentrated solution that creates over 250 times that amount in usable caterpillar-killing solution. Simply mix a small amount of concentrate with water as directed until you reach the desired amount of solution. Store any unmixed concentrate in a cool place for later use. One 16 oz bottle of concentrate makes up to 32 gallons of solution and protects over 10,000 square feet of plantings.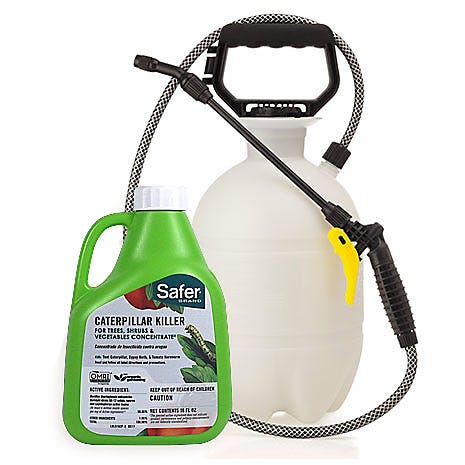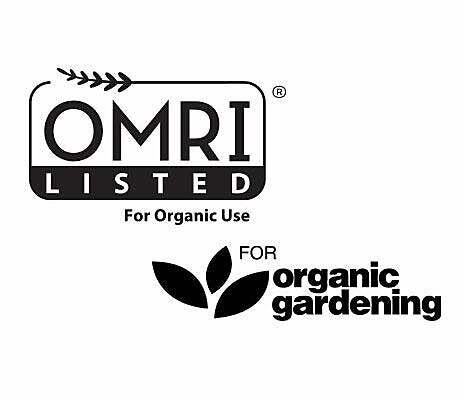 Compliant for Use in Organic Gardening
Safer® Brand Caterpillar Killer Concentrate has been third-party reviewed for use in organic gardening by Organic Materials Review Institute. It carries the OMRI Listed® seal, and it has been deemed compliant for use in organic gardening by the USDA's National Organic Program. With Safer® Brand, you have an economical solution to get rid of caterpillar and worm pests in your garden while staying true to the organic gardening regimen that you, your family and your plants love.

"I have tried several products to kill hornworms on my Royal Princess tree. This product stops hornworms caterpillars in their tracks. I have been losing plants for two years now until I found Safer®. It does not leave any noticeable residue on leaves like other products. A great product. Thank you!" (Review from Anonymous)
Safer® Brand Caterpillar Killer Product Details
Do you want to know more helpful details about Caterpillar Killer? Take a closer look at the in-depth specifications for this product.
Safer® Brand Caterpillar Killer Product Details
Model #
5163-6
Size
16 fl oz
Makes
Up to 32 Gallons of solution
Active Ingredients
B.t. - bacillus thuringiensis var Kurstaki 98.35%
Eliminates
Caterpillars and worms
For Use On
Trees, shrubs and vegetables
Safer® Brand Caterpillar Killer Concentrate
Model #
5163-6
Size
16 fl oz
Makes
Up to 16 gallons of solution
Active Ingredients
B.t. - bacillus thuringiensis var Kurstaki 98.35%
Eliminates

Bagworms
Cabbage Looper
Elm Spanworms
Fall Cankerworms
Fall Webworms
Gypsy Moth Caterpillars
Imported Cabbage Worms
Spring Cankerworms
Tent Caterpillars
Tomato Hornworms

For Use On

Broccoli
Cabbage
Cauliflower
Celery
Collards
Kale
Lettuce
Melons
Mustard Greens
Ornamentals
Shade Trees
Tomatoes
Turnip Greens

Usage Notes

OMRI Listed® and compliant for organic production.
Apply at first sign of infestation.
Apply up to the day of harvest.
Spray leaf surfaces thoroughly & on top and bottom of leaves.
Follow individual application instructions.
Will Safer Brand Caterpillar Killer with bt store well in my cool basement from now (November) until Spring (April) when it will be used, and will it still be potent against gypsy moth caterpillars? Or does it need to be fresh? Thanks for your help.
Question by: Beth on Nov 6, 2021, 8:53 AM
This product has a shelf life of 2 years unopened, one year once opened. It should be fine to use, so long as it is stored in a cool and dry area.
Answer by: Rachel Faust on Nov 8, 2021, 8:59 AM
How much Safer Brand Concentrate ll is mixed with water for spraying Vegetables.
Question by: John Brad;eu on Nov 29, 2021, 7:29 PM
For vegetables, mix 1.5 fluid ounces per 3 gallons water (1 tablespoon per gallon) for use with a hand sprayer.
Answer by: Rachel Faust on Nov 30, 2021, 8:22 AM