Safer® Garden Neem Oil Spray - 24 oz
Earn 280 rewards points on your purchase! Learn More
3-in-1 spray works as a fungicide, miticide, and insecticide
Kills all stages of insects – eggs, larvae, and adults
Kills pests including spider mites, aphids, whiteflies, and more
Controls and prevents fungus including powdery mildew, black spot, and rust
For use on roses, flowers, houseplants, fruits, vegetables, ornamental trees, and shrubs
OMRI Listed® for compliant use in organic gardening
24 fl oz ready-to-use spray bottle for easy application
Best Used For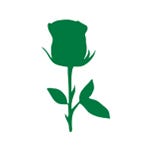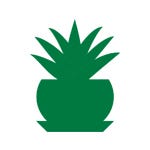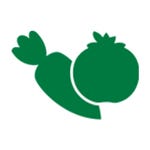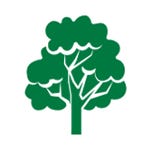 Safer® Brand Garden Neem Oil
Safer® Brand Garden Neem Oil is a 3-in-1 spray that combines the power of a fungicide, miticide, and insecticide to take the guesswork out of controlling plant problems in your garden. This ready-to-use spray controls and prevents fungal diseases and kills eggs, larvae, and adult insects. It's also OMRI Listed® and compliant for use in organic gardening. Use it to protect roses, flowers, houseplants, fruits & vegetables, ornamental trees, and shrubs.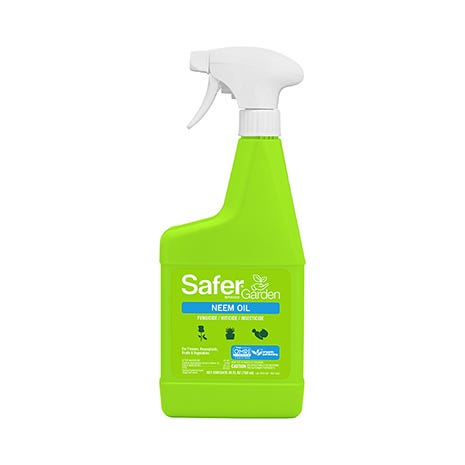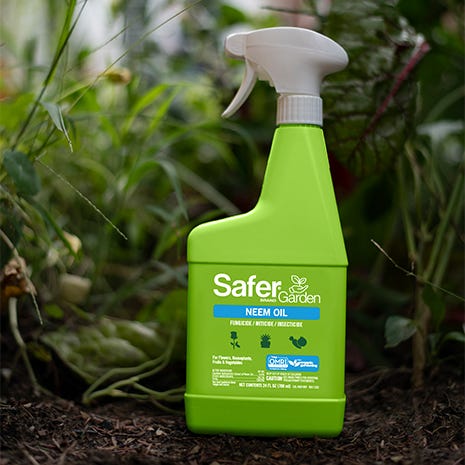 Kills Insects & Mites
Safer® Brand Garden Neem Oil helps your garden thrive by eliminating destructive insects and mites. This ready-to-use spray is formulated with neem oil extracts to kill spider mites, aphids, whiteflies, beetles, caterpillars, and more on contacts. It works on all stages of insects – from eggs to adults – so you can protect your plants from any threat.
Controls & Prevents Fungus
In addition to insects and mites, Safer® Brand Garden Neem Oil can be used to treat various fungal diseases including black spot, powdery mildew, downy mildew, anthracnose, rust leaf spot, botrytis, and more. These diseases can quickly spread and take over a plant, causing irreversible damage. Neem oil attacks these fungal diseases, ultimately stopping the spread of the fungus.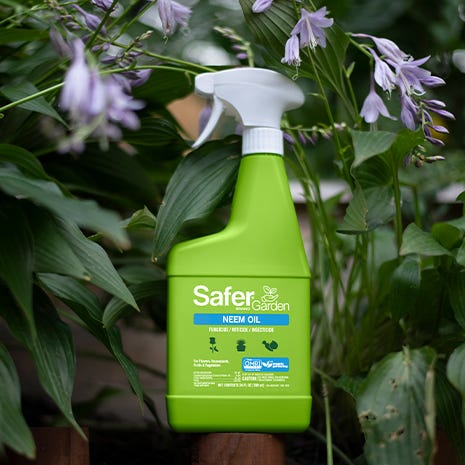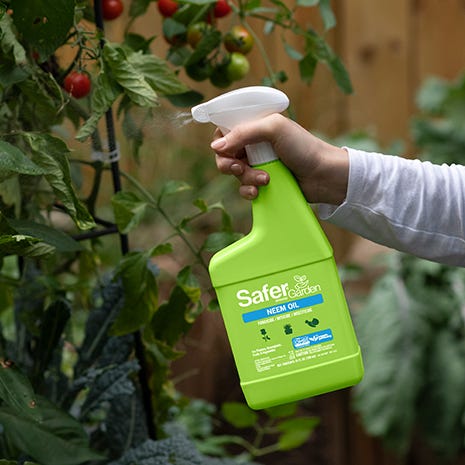 Easy to Use
For your convenience, the ready-to-use spray bottle makes application a breeze. Apply Safer® Brand Garden Neem Oil at the first sign of insects, mites, or disease, thoroughly covering all plant surfaces (including the bottom of the leaves) until the point of runoff. For best results, apply this product in morning or evening when temperatures are not as hot to minimize the potential for leaf burn.
Safer® Brand Garden Neem Oil Details
Do you want to know more helpful details about Safer® Brand Garden Neem Oil? Take a closer look at the in-depth specifications for this product.
Safer® Brand Garden Neem Oil
Model #
SG5180
Size
24 oz
Active Ingredients
Clarified Hydrophobic Extract of Neem Oil
Eliminates
Spider mites, aphids, whiteflies, and more
Controls
Powdery mildew, black spot, rust and more
Safer® Brand Garden Neem Oil
Model #
SG5180
Size
24 oz
Active Ingredients
Clarified Hydrophobic Extract of Neem Oil
Eliminates

Various insect pests including:

Mites (including spider mites)
Aphids
Whiteflies
Mealy bugs
Armyworms
Hornworms
Leafhoppers
Bagworms
Leaf miners
Psyllids
Fruit flies
Loopers
Budworms
Beetles (including Japanese beetles)
Scales
Caterpillars
Midges

Controls

Various fungal diseases including:

Powdery mildew
Black spot on roses
Rust leaf spot
Needle rust
Downy mildew
Anthracnose
Botrytis
Scab
Flower, twig, and tip blight

For Use On

Roses
Flowers
Houseplants
Fruits
Nuts
Vegetables
Ornamental trees
Shrubs